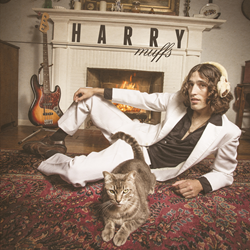 "The Harry Muffs campaign is awesome. Quite entertaining." - Dizzy Reed
Los Angeles, CA (PRWEB) March 22, 2014
The time to launch "Harry" music has finally arrived! The first single, "The Girl Will Be Mine", is available for download on Harry's IndieGoGo page. Harry's first sketch comedy video can also be viewed on the IndieGoGo page and Youtube.
During the next year, Harry will record his first solo album, "Muffs", and release a series of sketch and music video's. Harry will also play shows in the LA area to promote the material. Harry is trying to raise $10,000.00 in the next 40 days in order to procure funds for the project.
Since moving to LA in 2005, Harry Ostrem has played in a variety of rock bands, including The Shrill and the current alt rock band Black Belt Karate. Harry also plays bass for Dizzy Reed of Guns N' Roses. Harry's first solo effort is markedly different than the progressive rock sound created in BBK. When describing his solo effort, Harry states that, "The other side of my musical brain loves funk and disco. Once I started writing my own songs, I realized they are more on the dancy side then the rock side." A comedic slant is also a strategic element of Harry's music and video's, evoking the Bee Gees and Magnum PI at the same time.