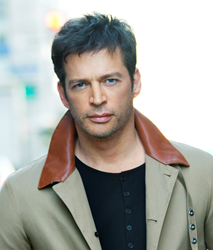 "Harry Connick, Jr. is a true talent in many forms….He is without a doubt back by popular demand to our theater. Connick joins a superstar concert lineup this winter at DPAC," said Emily McLoughlin, Director of Marketing for Concerts & Comedy at DPAC.
Durham, NC (PRWEB) November 18, 2014
Grammy® Award-winning musician and actor Harry Connick, Jr. returns to DPAC, Durham Performing Arts Center, on February 4, 2015. Connick's last performance at DPAC in February 2010 was sold out. Showered with awards and recognition for his live and recorded musical performances, and for his achievements on screens large and small as well as the Broadway stage, Harry Connick, Jr. has exemplified excellence in every aspect of the entertainment world. This is a show not to miss.
Tickets go on sale Friday, November 21 at noon:

Online at DPACnc.com
DPAC Ticket Center: 919.680.2787, 123 Vivian Street, Durham, NC
Ticketmaster.com / Ticketmaster Charge by phone at 800.745.3000
Friends of DPAC members may place their orders on November 20. Joining Friends of DPAC is free, and you can register at http://www.dpacnc.com/fod.
"Harry Connick, Jr. is a true talent in many forms; his longtime fans were captivated first by his music, and he has continued to touch lives and reach new audiences throughout his career via Broadway, movies, television, charitable acts, and more. He is without a doubt back by popular demand to our theater. Connick joins a superstar concert lineup this winter at DPAC," said Emily McLoughlin, Director of Marketing for Concerts & Comedy at DPAC.
The foundation of Connick's art is the music of his native New Orleans, where he began performing as a pianist and vocalist at the age of five. His career took off when he signed with Columbia Records at 18 years old and revealed his stunning piano technique and vivid musical imagination on his self-titled debut album. His follow-up album, 20, announced that Connick was equally gifted as a singer; but this was soon overshadowed by his multi-platinum success with the soundtrack for the hit comedy When Harry Met Sally... To date, Connick has released 29 albums, won three Grammy® Awards and two Emmy® Awards, and garnered sales of 28 million. His most recent releases are 2013's Smokey Mary and Every Man Should Know.
In addition to his music career, Connick has also appeared on the screen and stage as an actor. Among his feature film credits are Little Man Tate, Copycat, Hope Floats, Memphis Belle, Independence Day and Dolphin Tale. His voiceover skills were featured in My Dog Skip and The Iron Giant. His latest work Dolphin Tale 2, the sequel to 2011's hit family film hit cinemas in September 2014. His Broadway career boasts equal recognition, having received Tony® Award nominations as both composer/lyricist for the musical Thou Shalt Not and as the lead in the Tony® Award-winning revival of The Pajama Game. He also has adapted The Happy Elf for children's theater, starred in the Broadway revival of On a Clear Day You Can See Forever and - on the 20th anniversary of his first Broadway concerts at the Lunt-Fontaine Theatre - brought his live show for an extended residency at the Neil Simon Theatre.
On television, Connick is perhaps best known for his recurring role on Will & Grace. Following his very successful stint as a mentor on American Idol, Harry was invited to join Jennifer Lopez and Keith Urban at the judges' table for Season XIII and XIV. He also appeared in an arc of Law & Order: Special Victims Unit, and has graced audiences with his musical talents in several primetime specials, including Harry for the Holidays, the animated tale The Happy Elf and the Emmy® Award-winning PBS specials Only You in Concert and Harry Connick, Jr. in Concert on Broadway.
Not surprisingly, Connick has used his influence as an entertainer to further his charitable work. Following the devastation of Hurricane Katrina, he created, along with fellow musician and New Orleanian Branford Marsalis, the Musicians' Village in the Upper Ninth Ward. The Village provides homes for musicians and other displaced citizens, a community center with a performance hall, recording studio and after-school facility for kids. His contributions to the post-Katrina effort have been acknowledged by a Redbook Strength and Spirit Award, an honorary degree from Tulane University and the 2012 Jefferson Award for Public Service.
####
ABOUT DPAC
Since its opening in 2008, DPAC, Durham Performing Arts Center, has become the center for live entertainment in the Triangle. Recognized for its contemporary design, DPAC features 2,700 seats, intimate sightlines and state-of-the art sound and video. Listed four times in the top 10 in Pollstar magazine's annual worldwide theater attendance rankings, DPAC is currently the #4 ranked theater in the U.S.
What is up next at DPAC? Tony-Award Winning Broadway Musical Rodgers + Hammerstein's CINDERELLA (November 18-23), the Holiday Classic Carolina Ballet's THE NUTCRACKER (November 28-30), and An Evening of Holiday & Hits with KENNY G (December 7).
For more information please go to http://www.DPACnc.com.