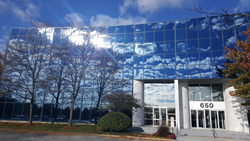 Moving into the NYC and LA markets allows us to serve the technology rental needs of existing clients and prospects on a local level.
Chicago, IL (PRWEB) November 09, 2015
Due to explosive growth, Hartford Technology Rental is pleased to announce its opening of two new branch offices in the Greater New York and Los Angeles areas, effective immediately.
The new 1,650 square foot facility located in Bayonne, New Jersey (9 miles outside of NYC) and 2,300 square foot office located in Hawthorne, California (15 miles from downtown LA) is crucial to the strategic growth initiatives of the organization.
"We have decided to move into the NYC and LA markets based on our current client demand and the opportunity to serve the needs of our prospects on a local level. Our excellent service levels, deep-dive knowledge about our product lines and a culture that exudes value based, client-centric solutions are the core reasons for this expansion," stated Peter Kutrumanes, General Manager of Hartford Technology Rental.
The company has always been a leader of technology rentals. Examples of this include plans to carry the new Microsoft Surface products (Pro 4, Book and Hub) as well as Apple's iPad Pro – all which were just announced over the last couple of weeks.
And Hartford Technology Rental continues to expand its existing inventory with the latest in computing and audiovisual technology. At any given time, the company can have thousands of multi-generation iPads available for rent, hundreds of the latest laptop or computer rentals, even scanners and copiers for temporary office use.
"Our clients are our partners in the sense they make suggestions for new products for us to carry and new destinations for us to enter. Because we are so client-focused and strive to be the first rental company to market with new technology, we have streamlined the acquisition process, thus allowing us to take the risk on brand new offerings," stated Kutrumanes.
Hartford's clients include litigation support service staff, event and meeting planners, advertising and marketing executives, training professionals, governmental agencies and corporations, both large and small.
About Hartford Technology Rental
Hartford Technology Rental has been serving clients in the computer rental and audio visual service arena since 1991. As a leading provider of technology rental products and services to clients all over the country, these offerings plus excellent customer service are exactly what clients want and need.
As a veteran-owned company and through an authorized GSA contract, the company can provide government agencies a streamlined approach for renting technology.
The organization is headquartered in Chicago and has additional offices in Washington, DC, New York City and Los Angeles.
For more information about the opening of these new offices or Hartford Technology Rental, please visit http://www.hartfordrents.com or call 888-520-5667.
# # #