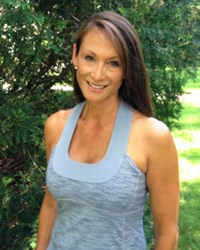 There is nothing more rewarding to me than seeing someone improve on themselves, increase energy levels, as well as their mental and physical health - Lesa Gutenkunst
Hartland, WI (PRWEB) August 06, 2013
The world's fastest growing fitness boot camp business, Fit Body Boot Camp, has just announced plans to open a new location in Hartland, Wisconsin and is thrilled to welcome health enthusiast and fitness expert Lesa Gutenkunst as owner and operator of the brand new Hartland boot camp facility called Lakeside Fitness - Fit Body Boot Camp.
Gutenkunst, an American Council on Exercise certified personal trainer, has years of experience in the fitness industry and has already helped many Wisconsin natives lose weight and get in shape. More than qualified to run a Fit Body Boot Camp, Lesa also holds certifications for TRX Suspension Training, Kettlebell Training, and Gravity training equipment as well being a Certified Turbulence Trainer. When Lesa is not helping people achieve their fitness goals she competitively races sail boats on San Francisco Bay and the inland lakes of Wisconsin, particularly Pewaukee Lake where she sails M17s and E Scows.
Excited to bring a Fit Body Boot Camp to the Lake Country area, Gutenkunst explains, "I believe there is a better way to help people find a love for fitness and to lose weight. There is a great sense of accomplishment I feel by helping others reach their goals and seeing the expressions on their face when they realized they finally did it." She adds, "It's important for me to make a difference in people's lives. Increasing the quality of life and demonstrating how to incorporate fitness and nutrition, as a lifestyle, is what I want to do for the community. There is nothing more rewarding to me than seeing someone improve on themselves, increase energy levels, as well as their mental and physical health."
Lakeside Fitness - Fit Body Boot Camp is set to officially open its doors on August 19th at 675G Industrial Court, Hartland, WI 53029 and will feature fun and encouraging group training sessions for all ages and fitness levels as well as specialized training sessions.
More information and scheduling can be found at http://www.lakesidefitness-fitbodybootcamp.com/.
About Fit Body Boot Camp
Fit Body Boot Camp is premier fitness boot camp franchise that was first launched in May of 2009. Quickly growing to over 150 locations worldwide, Fit Body Boot Camp has already positioned itself as the world's fasting growing indoor fitness boot camp business. The Fit Body Boot Camp franchise was launched to create a completely new category in the fitness, wellness, and personal training industry with a client-centric focus to deliver unmatched fitness and fat loss results backed by their Unstoppable Fitness Formula.
About Lakeside Fit Body Boot Camp
Lakeside Fitness - Fit Body Boot Camp is a part of the Fit Body Boot Camp family and is owned and operated by Lesa Gutenkunst. She is committed to helping the community lose weight and get in the best shape of their lives by delivering exciting and encouraging group personal training sessions and nutritional support. For more information on the boot camp in Hartland, Lakeside Fitness - Fit Body Boot Camp please visit http://www.fitbodybootcamp.com/wi/lakeside-fitness-boot-camp/.