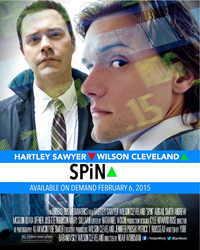 SPiN is like a cross between The Wolf of Wall Street, Frost/Nixon and The Newsroom.
New York, NY (PRWEB) February 06, 2015
Iris Mediaworks today premiered its anticipated Wall Street short film drama, SPiN. The film starring Hartley Sawyer(Caper) and Wilson Cleveland (Leap Year) is now available worldwide on several streaming, On Demand and SVOD platforms as well as the dedicated website TheSpinMovie.com.
Set in the bustling newsroom of an upstart financial news network, Sawyer plays Scott Angelus, the ethically-ambiguous "Prince of Wall Street" who clashes with intrepid journalist James Locke (Cleveland), who is determined to prosecute and convict Angelus in the court of public opinion over the course of an intense 10-minute live interview.
"SPiN is like a cross between The Wolf of Wall Street, Frost/Nixon and The Newsroom condensed into a fifteen-minute film," said Cleveland, who also serves as a writer and producer on the film. "I think there are five major plot twists that unfold in a very short amount of time."
Shot on location in New York City, SPiN was Directed by Noah Workman, Written by Cleveland and Yuri Baranovsky - The creative team behind the popular Silicon Valley comedy series, Leap Year. Sawyer and Cleveland recently co-starred in the critically-acclaimed psychological thriller, Kept Man. The film is produced by Patrick T. Rousseau of Iris Mediaworks.
Beginning today, SPiN is available worldwide on Vimeo On Demand and YouTube and will become available on Netflix, Amazon Instant Video, IndieFlix, iTunes, Google Play and others in the coming weeks. Visit TheSpinMovie.com for the latest information on where to watch SPiN.
About Iris Mediaworks
We are a team of creative directors, filmmakers, and designers whose passion is forging great ideas into breathtaking content that can be experienced and shared across platforms. We create narratives that give purpose and clarity to the choices people make. We specialize in synchronizing content creation, web presence, episodic content, interactive live content, and promotions to drive engagement, brand awareness, and sales. Visit http://www.irismediaworks.com for more information.