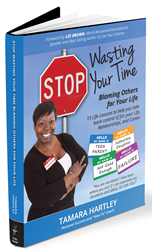 "'Stop Wasting Your Time....' is going to save you from sabotaging yourself unconsciously. It will prevent you from looking in the mirror one day and asking, 'What happened?' This book will help you get unstuck and move forward in your life." - Les Brown
Columbus, Ohio (PRWEB) September 03, 2015
Advice columnist, professional life coach and entrepreneur Tamara Hartley (http://www.tamarahartley.com) announces the release of her debut book, "Stop Wasting Your Time Blaming Others for Your Life."
Released just in time for National Read a Book Day (September 6), Hartley's guide to overcoming life's obstacles by taking full responsibility for one's life shares 15 important life lessons gleaned from her personal experiences as a fatherless daughter, teenage mother, divorcee and now a sought-after personal life coach (http://www.yourhowtocoach.com).
Hartley is committed to helping others realize their life's purpose having realized her own. "It's easy to blame others when something goes wrong in our lives, particularly when we are in the midst of a difficult situation. But when we blame others, we give up our power to take control of the situation and make new and better choices. This book is designed to help readers take back their power and overcome life's hurdles."
What sets Hartley's self-help guide apart is her no-holds-barred approach. She is not afraid to share her own trials, tribulations and triumphs if it can help others on their life's journey. "I believe in being transparent," Hartley says. "People want to sweep things under the rug like nothing ever happened to them. That's not me. People need to know that they are not alone, that others have been where they are and made it through to the other side."
In her book, Hartley candidly shares the experience of learning, at age 16, that she was pregnant, dashing her family's dreams for her to attend Howard University and become a doctor. Hartley didn't let motherhood keep her from her dream, and she did go on to study at Howard University—with her young daughter in tow.
Hartley also shares her experience coming to terms with the emotional wounds of growing up with an absentee father. Later, she shares intimate details of her marriage, separation and eventual divorce. Proving no subject is off limits for her, Hartley also discusses the financial woes of her young adulthood and subsequent personal bankruptcy.
With every topic she touches on, Hartley shares how she met the challenge and how readers might approach something similar in their own life. Each chapter concludes with a section she calls "Self Talk." Here, readers are prompted to have an honest conversation with themselves, answer personal questions related to the topic at hand, and write down how they plan to move forward proactively.
World-renowned motivational speaker and author Les Brown (http://www.LesBrown.com) wrote the foreword for Hartley's book: "'Stop Wasting Your Time Blaming Others for Your Life' is going to save you from sabotaging yourself unconsciously. It will prevent you from looking in the mirror one day and asking, 'What happened, where did the time go?' This book will help you get unstuck and move forward in your life."
Hartley has long been the go-to person for advice. She parlayed her knack for delivering sound counsel into an advice column that now appears on the website http://www.YourAdviceGuru.com and eventually into a full-time career. Hartley founded The Personal Success Academy in 2011. Since then, she has worked with dozens of individuals who are ready to stop dreaming and start acting.
"This book has taken me two years to write," she says. "I didn't want to write a sad book about my woes. I wanted it to be about what I went through, what I learned, and how I overcame my obstacles. If it touches even one person and helps them realize that even seemingly insurmountable obstacles can be met, I will consider this book a success."
About Tamara Hartley: A married mother of five, Hartley is a speaker and personal success coach. She helps individuals find balance, make moves, and live their dreams. Tamara helps her clients figure out the "how" and helps them take the necessary action steps to make their dreams a reality. Hartley resides in Columbus, Ohio with her family.