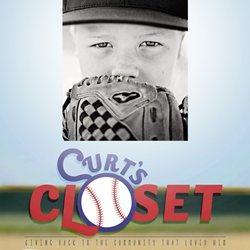 We are proud to be able to support Ashley in her efforts and ultimately help the community and honor Curt's wishes to make life a little easier."
Hartselle, AL (PRWEB) October 11, 2017
Patrick Drake Associates of Hartselle, AL, announces the creation of a philanthropic program designed to strengthen and enrich the communities it serves. By working closely with nonprofit groups and community leaders, the agency hopes to bring greater awareness to important local causes by the formation of 90-day campaigns which aid worthy organizations, families and individuals.
To debut the community involvement program, Drake has elected to support Curt's Closet, a new nonprofit organization founded by a grieving mother in honor of her son. Curtis James Wilson, who was tragically killed on May 7, 2017, had a gift for loving others and making people smile. His mother, Ashley, wishes to continue his gift of love by lessening the financial burden parents of school children face. Curt's Closet collects and redistributes new and gently used clothing, shoes, backpacks and lunch boxes to those in need.
"We are proud to be able to support Ashley in her efforts and ultimately help the community and honor Curt's wishes to make life a little easier," said Patrick Drake, owner of Patrick Drake Associates. "We want all kids attending school to feel confident and proud of their school items and hope the community continues to support Curt's Closet – and the rest of our Community Causes – throughout the year."
To accomplish this objective, the team at Patrick Drake Associates is employing a three-pronged approach. First, they will engage their own network of clients, friends and business partners through social media and an email outreach campaign. Second, interested parties will be directed to a donations page where a fully detailed story will outline each cycle's cause. And third, the agency's monthly community magazine, Our Hometown, will use a full page to feature all Community Causes. The electronic version of the current issue spotlighting Curt's Closet may be viewed at http://patrickdrakeassociates.com/magazines/.
To join Patrick Drake Associates in supporting school kids and their financially challenged parents, donors may visit https://www.crowdrise.com/recycling-happiness and are asked to share the page with their own circles of influence to help spread the word. "We're truly passionate about mobilizing support for those in need in our community and hope everyone will truly embrace these campaigns," said Drake.
About Patrick Drake Associates
A full-service insurance and financial services provider serving families and businesses of the Tennessee Valley from offices in Hartselle, AL, agency owner Patrick Drake knows many local families. This knowledge and understanding of Alabama's people help him to provide customers with an outstanding level of service. Drake and his team of dedicated professionals work diligently to help families protect the things which are most important to them – their families, homes, businesses, cars and more. They also prepare strategies to help clients achieve long-term financial goals. More information about the agency is available at http://patrickdrakeassociates.com/. To speak with a caring expert, please call 256-286-0029.