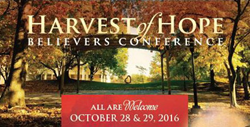 "The ultimate goal of Harvest of Hope is to bring all of the tri-state communities together for a day of networking, healing and renewal of their commitment to the communities in which we live and serve," says
Leesburg, Virginia (PRWEB) October 08, 2016
West Belmont Place, the Special Event Center at The National Conference Center in Leesburg, is pleased to announce its partnership with WAVA radio, the largest Christian radio station in the Washington, DC metro area. The WAVA team has put together the first motivational conference called Harvest of Hope, a weekend filled with inspirational speakers, music and relaxation all at a beautiful get-away in the countryside in Leesburg.
The 1 ½ day event will be held at West Belmont Place Event Center, 45 miles from Washington, DC. "The West Belmont Place Event Center is a beautiful facility in an excellent setting. This conference is designed for couples and individuals to come out to relax, renew and refresh. WAVA is pleased to partner with The National to present this opportunity at a very special rate, which includes an overnight stay, all meals and optional speaker sessions. We're encouraging WAVA listeners to come join us for this special weekend away," says Tom Moyer, Station Manager at WAVA.
Harvest of Hope is a non-denominational event open to all believers. The 1 ½ day program is organized as a time for healing, rejuvenation and relaxation in a getaway environment. The event begins on Friday evening, October 28 with an optional dessert reception, fellowship, worship and entertainment by the Liberty Worship Collective. The Liberty Worship Collective comes from the world's largest Christian University and consists of 45 hand-selected leaders, songwriters and musicians.
Saturday is a full day of food, faith, praise and prayer. A partial list of guest speakers include:

Eddie Mason: Eddie is a former NFL linebacker whose serious mistakes nearly cost him his NFL career. Eddie discovered the one true "playbook" which helped him turn his life around.
Janet Ford: "Effective leadership is servant hood at its finest. People want to matter, they want to be appreciated, and they want to know someone cares." Janet is the CEO and Founder of Leadership with Purpose and Passion (LWPAP), LLC a Minority Women Owned Small Business located in the Loudoun County.
Burt Rosenburg: Burt Rosenburg is a unique, spirited, and joyful fellow, who believes that the Kingdom of God is a Divine Conspiracy to Smuggle Love into the World. So, Burt travels all over, endeavoring to love-one-another through amusing, insightful expressions of life-truth, at his 'Joy Seminars.'
Larry Rosenthal: (tentative) A Northern Virginia native with over two decades of financial planning experience, the President and founder of Rosenthal Wealth Management Group has become a metro area household name. Families in our Nation's Capital, tune in to Larry every Saturday morning from 9:00 to 10:00am on WAVA 105.1's "Making Money Sense" radio show where he discusses financial issues affecting the community.
"The ultimate goal of Harvest of Hope is to bring all of the tri-state communities together for a day of networking, healing and renewal of their commitment to the communities in which we live and serve. We feel our facility is perfect for this event," says Geoff Lawson, General Manager of West Belmont Place at The National Conference Center.
The cost of the event is $99/person, which includes all meals, presentations, 24-hour prayer/meditation room, free Wi-Fi, complimentary parking and materials. An additional $79/room is added for overnight guests. Tickets can be purchased online.
For more information about West Belmont Place at The National and Harvest of Hope, visit West Belmont Place's event page or call 703-724-6250.