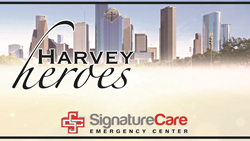 Houston, TX (PRWEB) October 14, 2017
SignatureCare Emergency Centers remained open during the recently Hurricane Harvey catastrophe and it was because of the dedication of their employees that allowed the facilities to remain open.
Several SignatureCare Emergency Room employees stayed the entire three days at the emergency rooms, leaving their homes and families to care for those who were sick and being brought in. Because of those hero's, the local Houston communities had emergency care available when so many hospitals had to evacuate and close because of the flooding. SignatureCare held an event recognizing these employees for their dedication and team work. Hurricane Harvey was one of the worst storms to hit land and caused massive flooding in the Houston areas. Many hospitals in Houston were forced to close and evacuate their facilities. Only a few Freestanding emergency rooms were able to remain open, SignatureCare being one of them.
"We have some of the best employees in the healthcare industry, not only are they high skilled and trained professionals, they truly care and are passionate about helping others". Said Aaron Braun, SignatureCare's Chief Medical Officer. "We were able to remain open because of the extraordinary teamwork of our employees." Braun continued to say.
SignatureCare has a ceremony to recognize the dedicated work from their staff. "They are truly our Harvey Heros" Said Braun. "Without them we could not have stayed open."
The freestanding emergency room has seven locations in Texas. Five are in the Houston area, one in College Station and one in Austin. All locations are open 24 hours, 7 days a week and treat minor and major medical emergencies. The facilities also have a full lab, can do x-Rays, CT Scans and other imaging. Most of the patients are seen within 10 minutes and most insurance not associated with Tricare, Medicare and Medicaid are accepted. To learn more visit their website at https://ercare24.com