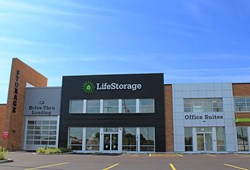 Harwood Heights, IL (PRWEB) August 15, 2013
The newest location for LifeStorage, a provider of self storage units with many locations in the Chicago area, opened in Harwood Heights on July 27th. This new self storage facility is located at 7125 W. Gunnison in Harwood Heights.
The one story building with over 159,000 square feet of storage was developed by Cobalt Commercial Construction, LLC on the existing building from the '60s. The site is located at Lawrence Street redevelopment corridor, which is one of the busiest intersections in Harwood Heights. The construction was started in October 2012, and the project was led by Steve Osborne, Construction Manager. "The location for this storage facility is ideal, with shopping, transportation, restaurants and entertainment adjacent to the site," said Osborne. "We think it will prove to be a convenient location for self storage customers."
The Harlem Irving Plaza Mall, which has recently been renovated, is located within one mile of the new facility. The property is also within one mile of Interstate 90, five miles from O'Hare International Airport, and just 15 minutes from downtown Chicago.
LifeStorage of Harwood Heights features ample parking and 686 storage units, as well as fully furnished office suites on the second floor with a separate entrance and lounge/kitchen area. A large retail office with a modern fireplace and Starbucks coffee will be offered. This storage facility will also feature a 32' wide drive thru loading with access to large contractor and commercial units. In addition to outstanding customer service, customers can choose from climate controlled storage units and keypad computerized access 5:00 a.m. through 11:00 p.m. in addition to many other features.
"We're excited to open another Chicagoland storage facility to better serve our customers," said Michelle Wright, LifeStorage Director of Operations. "This new facility in Harwood Heights is at a great location with plenty of features we think our customers will appreciate"
About LifeStorage
Since 2002, LifeStorage has been providing clean, secure, convenient and affordable self storage facilities for the home and business. With 32 locations nationwide, including many Chicago storage facilities, you can always find a nearby climate-controlled LifeStorage facility to fit your needs.