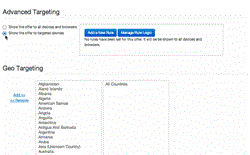 Not only does this allow HasOffers clients to work more closely with mobile first advertisers but it also creates a better connection between HasOffers and our MobileAppTracking product, making it easier to get campaigns up and running.
Seattle, Washington (PRWEB) September 10, 2013
HasOffers, the industry's leading attribution analytics for performance advertising, is excited to announce the launch of Advanced Mobile Targeting, currently available to HasOffers Enterprise customers. This new feature allows ad networks, agencies, and advertisers to create highly specific rules to target and optimize campaigns for preferred audiences and user experiences. Take, for example, an app registration offer you have for both iOS and web registration. With mobile targeting, users will always arrive at the correct experience based on their device (e.g. iPhone or Blackberry).
"We are committed to empowering HasOffers clients to create and promote mobile offers and campaigns, which are by far the fastest growing segment of performance advertising," says Peter Hamilton, CEO at HasOffers. "The ability to accurately target specific devices and provide the right user experience is an important stepping stone in accomplishing that."
Advanced mobile targeting can be as simple as choosing which browsers or operating systems to target, or as fine-grained as only accepting clicks with specific sub-ids passed in. To support flexibility, we have created a set of common targeting rules, such as the browser type, the device brand, and operating system, as well as the option for you to build your own custom defined rules based on certain attributes and parameters.
"Our engineering teams worked hard to make Advanced Targeting intuitive and easy to use, while still enabling users to create fully customizable targeting rules," says Niek Sanders, VP of Engineering, HasOffers. "Advanced Targeting is the most flexible and open-ended feature of the HasOffers platform to date. We have made common targeting scenarios painless by including ready-made targeting rules. However, we are also excited to see how power users leverage custom rules in ways that our engineers never even imagined."
Read through the full use case to learn more more about setting up the new advanced targeting rules, or better yet, join our live product tour on Thursday, September 12th at 9 a.m. PST to see how simple it is to start incorporating these new targeting rules into your campaigns.