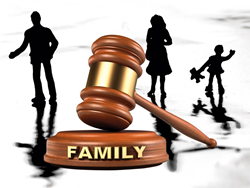 ...outcomes can differ based not only on the divorcing parties, but on their attorneys as well.
Los Angeles, CA (PRWEB) June 10, 2015
According to a piece published by the LA Times on May 20th, a controversial initiative spearheaded by California businessman Steve Clark is attempting to collect the 365,880 signatures needed by November 2nd to get on the 2016 state ballot. After going through his own divorce, Mr. Clark gained the opinion that alimony is an "outdated" concept that he claims elongated his divorce process. While many would disagree with his assessment, what is clear is that current alimony laws can complicate legal proceedings. "This means that, at least until the issue is decided in the 2016 election, each party needs to be represented by a skilled attorney who knows exactly how to argue the best interests of the client," says Raymond R. Hassanlou, a respected divorce attorney in Encino. He explains that he has seen firsthand how outcomes can differ based not only on the divorcing parties, but on the efforts of their attorneys as well. Mr. Hassanlou points out that there are a variety of things to consider about current alimony laws when approaching divorce proceedings.
"When one spouse has been the primary breadwinner for an extended period of time, it is common for the court to compel this party to pay alimony to support their ex-husband or wife until it is reasonable that they can support themselves," explains Mr. Hassanlou. Yet, if Mr. Clark had his way, this would be eliminated completely. In the meantime, a knowledgeable lawyer is still needed when determining the exact size and length of these alimony payments.
The lawyer for the party receiving alimony will typically attempt to maximize the payment amount and the duration of the alimony, and it is up to the other attorney to use the factors at hand to do the opposite. "Factors that can be considered by the court when determining alimony include the duration of the marriage, the age of the divorcees, their financial obligations, standard of living, and much more. A good lawyer will be aware of all of these factors so that they are best used to their client's advantage."
About The Law Office of Raymond R. Hassanlou
In addition to being an experienced family law attorney, Raymond Hassanlou is also a car accident lawyer Los Angeles residents trust to fight for them if they have been in an accident. Anyone needing a lawyer for any of the reasons above can call The Law Office of Raymond R. Hassanlou at (818) 945-0640 or visit their website at http://www.hassanloulaw.com.