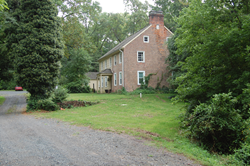 Hatfield Township, PA is selling the historic Williams-Kindig House and its surrounding acreage in an effort to garnish additional non-tax revenue.
Hatfield, PA (PRWEB) September 05, 2013
In an online auction that started on September 3rd and ends on September 25th, Hatfield Township, PA is selling the historic Williams-Kindig House and its surrounding acreage in an effort to garnish additional non-tax revenue. The house was built in 1732 and acquired by the township in 1999 at the urging of a group of residents who wanted to refurbish the house for use as additional meeting and banquet space. Township officials no longer feel the house is serving a fiscally affordable purpose in a time of tight municipal budgets.
Hatfield Township, PA is using online auction site, Municibid.com to sell the items. Municibid was established in 2006 and has grown steadily since, with over 1,000 government agencies nationwide auctioning surplus through the easy-to-use online system. Among the hundreds of governments using Municibid in the greater Philadelphia region are the Bucks County District Attorney's Office, the City of Philadelphia and Delaware County. Auctions on Municibid result in competitive bidding and great deals on government surplus and forfeited items.
Municibid Founder and CEO, Greg Berry said, "Taxpayer demand and tightened budgets require government agencies to look for new ways of increasing non-tax revenue. Municibid is an easy way to achieve this and at no cost to the agency." Berry added, "Auction items will reach a much broader, national audience of competing bidders, leading to better net results for the agency and great deals for bidders."
The Hatfield Township, PA online auction of their government surplus items, including this historic property, ends on September 25th. The house has been used in the past as a bed and breakfast and has a rich history dating back to 1732. This lovely 2,800 sq foot brick and stone home features 3 bedrooms and 2 1/2 baths. It is on a 1.1 acre wooded lot set back approximately 1000 feet from the road at the end of a long, narrow lane. The home features spacious rooms that flow in a wonderful pattern to accommodate both formal and informal entertaining. The kitchen features generous work areas. The living room adds to the warmth and comfort of the home with a brick fireplace. The gracious formal dining room features large windows to enjoy the beautiful wooded views. The property also includes a barrel vaulted root cellar, stone walls, a reflecting pond and a detached 1 car garage. The property is located in an exceptional central location in award winning North Penn School District with easy access to the Pennsylvania Turnpike. For the property address and contact information, visit the Municibid website at: https://www.municibid.com/detail.asp?id=17076&n=Williams-Kindig-House---Hatfield-Township-PA.
The Hatfield Township, PA Surplus Store can be found online here: https://www.municibid.com/storecatalog.asp?userid=893.
About Municibid.com
Municibid.com is an online government auctions platform serving 1,000 state and local government agencies across the US from cities like Philadelphia, Boston and Baton Rouge, to small towns, authorities, school districts and universities. Municibid is designed for government agencies to more effectively sell surplus, forfeitures and other no longer needed items to the public via a convenient and easy-to-use website. Municibid proactively markets items nationwide via social media and traditional avenues at no cost to the selling agency.