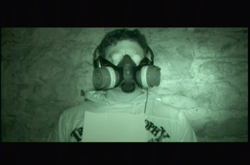 'We're willing to ask the truly terrifying questions the other ghost hunters won't ask.' - Tim Wood, Founder and Lead Investigator of LiveSciFi
Atchison, KS (PRWEB) October 18, 2014
Known as the most haunted house in America, the Sallie House has been widely reported to be a center for paranormal activity. After investigating the house several times from 2010-2013 and being face to face with extreme paranormal and demonic activity, Tim Wood, LiveSciFi.tv creator and lead ghost hunter, decided to visit the house again this Halloween season. This weekend, he will be back at the haunted house practicing his unique brand of live ghost hunting and offering a stream of the ghost hunt online for all to see. While performing his extreme paranormal investigation techniques, Wood will be cataloging any new conclusive evidence or sightings that occur in order to be featured alongside the proof of paranormal activity he encountered during his previous stay. Tim will be conducting a Ouija board session at some of the paranormal epicenters in the house as well as conducting ghost box and EVP sessions. Any Paranormal Evidence he uncovers will be posted as paranormal clips on the LiveSciFi paranormal YouTube channel.
About LiveSciFi.tv:
Created by Tim Wood, the LiveSciFi ghost hunting team is known for conducting more extreme investigations than your average cable TV show. Their show has streamed on Yahoo!, YouTube, UStream, and Justin.tv, where they routinely smash online records for views and minutes-watched-per-viewer.
Company information:
Specializing in feature films, TV, high-end webisodes, and LIVE online streaming production, One World Studios Ltd. is an independent film company on the cutting edge of transmedia and cross-media storytelling, movie distribution, film and video production. OWS has been a fully independent distribution and production company since 2002. Credits include biker movie classic Choppertown: the Sinners, Ouija Movie I Am ZoZo about the ZoZo demon, and LiveSciFi, a premium live online ghost hunter show.