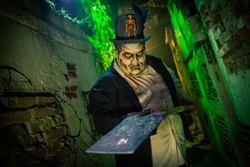 An small town haunted house located in Indiana is competing with the biggest haunted events in America to rank among the ten best.
Seymour, Indiana (PRWEB) September 02, 2016
Who is first in fear?
That's the frightful focus of a new national poll conjured up by USA TODAY as Halloween creeps closer.
The polls are open and voting is underway to determine which haunted attractions are the best in America.
Only twenty of the over two thousand haunted attractions in the US were selected to compete in the poll by local experts, editors and industry leaders.
Of the twenty terrifying attractions vying for votes, only one is located outside a major metropolitan area. Fear Fair is located in Seymour, Indiana approximately 45 minutes from Indianapolis, Indiana; Louisville, Kentucky or Cincinnati, Ohio.
Opening it's doors for the sixteenth continuous season on Friday, Sept. 23, this not for profit attraction raises funds to equip first responders with automated emergency defibrillators (AED's) while delivering first class fright.
Fear Fair is looking to repeat in the top ten haunted attractions in the US this year. They were included in the USA TODAY ten best in 2015 as well. The attraction has also been recognized by Forbes Magazine in 2013 as one of the top thirteen attractions nationally.
CLICK HERE to vote for Fear Fair.
Voting ends at noon on Monday, Sept. 26.
Over the next few weeks, haunted attractions across the United States will be opening. The National Retail Federation estimates that 20% of all adults plan to visit a haunted attraction this Halloween season.
Fear Fair is entering it's 16th continuous season and has scare thousands of visitors annually since 2001. The attraction has received national acclaim as one of the best haunted houses nationally.
Media Contact:
Brett Hays
Fear Fair Haunted Attraction
(812) 567-3327
(812) 405-1643 fax
bhays(at)fearfair(dot)com
http://www.fearfair.com
Video Trailer
###