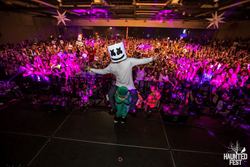 The edgy, EDM filled lineups coupled with warehouse and grand hall spaces allow attendees to really go all out and let loose."
National (PRWEB) September 07, 2017
Internationally recognized Above & Beyond has been nominated 13 times for the DJ Mag Top 100 DJs list for their awe-inspiring and emotional progressive trance production. Hardwell, who has released seven compilation albums and a documentary, won 6 of 12 nominations at the International Dance Music Awards in 2016.
Waka Flocka Flame has been nominated for multiple BET awards and has recently transitioned from his iconic hip hop status to the EDM realm. Last but not least, Yellow Claw is a noteworthy genre-bending duo who own the Barong Family music label with hits like "In My Room" featuring Ty Dolla $ign, Tyga and DJ Mustard.
The Columbus, OH-based brand returns to the city as well as Kalamazoo (where it ghoulishly grew into last year) while adding Pittsburgh and Indianapolis to its ranks. In 2016, the event sold out in both markets and is likely to do so in all four this year. Festival goers can expect scary good production from added confetti blasters to mind-boggling visuals plus a curated mix of electronic artists of all genres from speaker-blowing bass to uplifting trance.
"We've been producing events in these markets since inception," said Adam Lynn, managing partner of Prime Social Group. "It's a great feeling for Haunted Fest to be the brand to bring them all together for one of our company's favorite events of the year. The edgy, EDM filled lineups coupled with warehouse and grand hall spaces allow attendees to really go all out and let loose."
Full city lineups are as follows:
Columbus, OH: October 27th || Ohio Expo Center
Hardwell, Kungs, VANIC, Parker, Corrupt
Pittsburgh, PA: October 27th || 31st Street Studios
Above & Beyond, Cash Cash, Bad Royale
Kalamazoo, MI: October 28th || Wings Event Center
Yellow Claw, Cash Cash, Waka Flocka Flame
Indianapolis, IN: October 28th || The Pavilion
Yellow Claw, Cash Cash, Waka Flocka Flame
*Note: Artists in Kalamazoo and Indianapolis will be taking private jets from one venue to the other.
All ticketing options are available now on HauntedFest.com; GA starts at $35 and VIP $75. For exclusive announcements including lineups, giveaways and sponsor/vendor opportunities, follow @HauntedFest on Instagram and Twitter. You can also search "Haunted Fest" via Facebook!