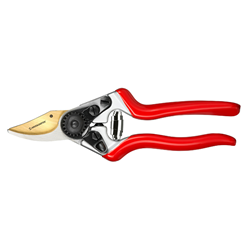 We Are Happy To Have Developed A Pruner Model That Combines Precision And Mobility For Everyday Light Pruning
McLean, Virginia (PRWEB) February 08, 2016
With the success of its Classic Style Titanium Bypass Pruning Shears, Haus & Garten aims to strengthen their position in the Home and Garden industry with the introduction of another groundbreaking product – The Haus & Garten Compact Titanium Bypass Pruning Shears. Customers can expect the same high quality standards for this product as what the company is known for. With this newest addition to the Haus & Garten lineup, consumers can look forward to a handy tool built for precision and better manoeuvrability when pruning.
According to company CEO Greg Schultz, this product was developed to address buyers who are looking for a suitable pruner that will fit small to medium size hands. It is equipped with an innovative new feature developed by the company called FitAdjustTM that allows the pruner to be adjusted to fit 2 different hand sizes, small and medium, by simply adjusting the thumb lock position. "I'm happy to have this as a standard feature on all of our pruner models now, it gives our customers the flexibility to select the fit that is most comfortable for their grip," adds Greg. The compact build makes this one of the Best Pruning Shears that does not only benefit people with smaller hands but is ideal for lighter pruning work and precise cutting of roses, vines, small bushes, ornamental plants & shaping of shrubs. Compared to other Haus & Garten pruner models, this Compact Style Pruner has a smaller cutting capacity at 0.8 inch for more precise cuts and a slightly inclined cutting blade that provides better manoeuvrability of inner branches & ease allowing for much faster pruning of dense planting. This is complemented by other notable features of the pruner such as the titanium-coated Japanese steel blade, which the company pioneered in its Classic Style Pruner. It acts as a protective coating to prevent rust and corrosion and also decreases friction for easier cutting. This Compact Style Garden Shear also features a micrometric adjustment system for easy adjustment of the blade alignment to produce precise, clean cuts every time.
At 7.7 inches in length and 7.4 ounces in weight, this is the smallest size model in their hand pruner lineup. "But don't be fooled by its compact build" Greg continues, "The forged aluminum body is engineered for strength, making it ideal for everyday use." The Compact Style Titanium Pruning Shears comes with non-slip ergonomic handles and shock-absorbing pads that reduce the risk of hand and wrist injuries. With handy features like the sap groove to prevent sticking and transfer of diseases among plants, and the wire cutting notch to cut small wires while keeping the cutting edge protected, these pruning shears are the all-round tool for avid gardeners.
Stocks are pouring in as the company prepares to release their newest product on Amazon by the end of this year. "With a premium made quality tool and our satisfaction guarantee, we are confident we will get the same positive response from customers as we did with our Classic Style Pruner," adds Greg. The companies' ethos is all about the customer and offer a 10-year warranty with all products that they manufacturer and have an unrivalled customer experience that is unmatched.
Greg reported that since the release of the company's flagship product, the Classic Style Titanium Pruning Shears has received great feedback since the products video was released on YouTube. With its Classic Style Pruner continuously gaining popularity and climbing up in sales and the Compact Style Pruner on the way to hit the stores soon, the company hopes to solidify their mark as an industry leader in Home and Garden Tools.
Gardening Enthusiasts are encouraged to like Haus & Garten's Page On Facebook to join the growing community of gardeners to receive latest news and gardening tips.
The Haus & Garten Compact Titanium Pruning Shears is available for purchase on Amazon and to celebrate its release, the company is giving away a 33% discount to customers who purchase the product on Amazon from February 8th until February 20th. Simply enter coupon code "JMXEAWBK" at checkout to claim this special limited-time offer.
For more information on Haus & Garten Compact Titanium Bypass Pruning Shears, please visit http://www.amazon.com/Haus-Garten-Compact-Titanium-Pruning/dp/B0171155ZU/
About Haus & Garten
Our focus is to provide high quality products that offer performance, longevity and are ergonomically designed for both professional and home use. To learn more, check out their website at http://www.hausandgarten.com