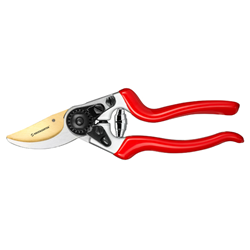 The Haus & Garten Titanium Enduro Pruning Shears Marks a Breakthrough in Ergonomics, offering Relief from Hours of Heavy Pruning Work
McLean, Virginia (PRWEB) February 01, 2016
The company has recently announced the release of its newest addition to their premium quality hand pruners – the Haus & Garten Enduro Titanium Bypass Pruning Shears. Thoughtfully crafted to make long hours of pruning less strenuous, these bypass pruning shears are designed to neutralize wrist bending making it ideal for regular day-to-day pruning. The ergonomically engineered handles and vertical inclined cutting head are just some of the key features that both professional and avid gardeners can expect from this unique tool. More importantly, they can look forward to less fatigue and discomfort in everyday pruning with the introduction of this new model pruner.
"We wanted a tool that can help make gardening a comfortable and enjoyable experience, which I believe we have accomplished with the Enduro Titanium Pruner. We've heard feedback from different gardening enthusiasts about how extensive and prolonged use of pruners make their hands feel overly tired and very stressed. This hand pruner aims to alleviate discomfort and prevent further risk of hand and wrist injuries," explains company CEO Greg Schultz. Unlike other Haus & Garten pruner models, the Enduro Titanium Pruner is specially designed with a vertical inclined cutting head that keeps the wrist in a neutral position while pruning, helping to reduce wrist injury and hand fatigue. The handles are ergonomically shaped to act as an extension of the forearm delivering optimum comfort while pruning. It can cut up to 1 inch in diameter, similar to its Classic Style predecessor, therefore strong enough to tackle tree branches, shrubs, hedges, and orchards. The new FitAdjustTM thumb lock feature, which is now a standard feature in all pruner models, is a welcome addition for these pruning shears. It gives the user the option to choose between 2 different hand sizes, medium or large, just by adjusting the thumb lock position.
According to the company, the unique shape of this pruner optimizes the force exerted, providing excellent cutting power with minimum effort. It is made of heavy-duty titanium-coated Japanese steel blade and an all-aluminum forged body making it durable enough to withstand daily and extensive use. "This is the ideal Garden Shear for professionals and home gardeners who typically spend long hours pruning their trees, trimming shrubs, or deadheading perennials. We want to give our customers a reliable and comfortable hand tool that they can use in everyday regular pruning," adds Greg. One other feature is the micrometric adjustment system that allows the user to manually adjust the blade to provide optimal, precise, clean cuts every time. With the built-in sap groove it also prevents the blade from sticking & helps direct sap & other contaminates away from the cutting blade, ensuring the removal of debris so disease between plants is minimized after each cut. The wire cutting notch is another handy feature that eliminates the need to carry around a wire snip and is able to cut small wires without damaging the cutting blade, accelerating the plant cutting process and making gardening much more efficient.
The company is optimistic that they can achieve the same success they did with their Classic Style Pruning Shears on Youtube which has received positive feedback since its release in 2013. Despite the many different options for pruning shears out there, Haus & Garten aims to separate itself from the pack with this versatile and easy to use Enduro Titanium Pruner and its range of Pruning Shears.
Haus & Garten's focus is on complete customer satisfaction and backs all of its products with a 10-year warranty and satisfaction guarantee. This latest addition expands the company's product lineup, now offering a wider variety of hand pruners suitable for anyone from home gardeners to professional landscapers.
Gardening Enthusiasts are encouraged to like Haus & Garten's Page On Facebook to join the growing community of gardeners to receive latest news and gardening tips.
The Haus & Garten Enduro Titanium Pruning Shears is available for purchase on Amazon and to celebrate its release, the company is giving away a 33% discount to customers who purchase the product on Amazon from February 1st to February 10th. Simply enter coupon code "43VD2KJZ" at checkout to claim this special limited-time offer.
For more information on Haus & Garten Titanium Enduro Pruning Shears, visit them on Amazon: http://www.amazon.com/Haus-Garten-Enduro-Titanium-Pruning/dp/B0170ZBDJO/
About Haus & Garten
Our focus is to provide high quality products that offer performance, longevity and are ergonomically designed for both professional and home use. To learn more, check out their website at http://www.hausandgarten.com