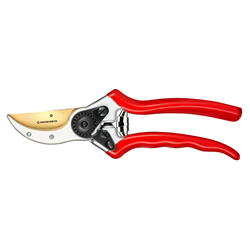 Amazon reviews reveal the impressive qualities of the Haus & Garten Classic Titanium Pruning Shears
Mclean, Virginia (PRWEB) February 15, 2016
Haus & Garten starts the year with a bang as it continues to gain praises from Amazon customers for its pioneering product, the Classic Titanium Pruning Shears. Since its debut, the product has already received a tremendous number of reviews and remains as one of the top gardening tools in the hand pruners category of the largest online retail store.
Founder and CEO Greg Schultz admits that they were pleased with the continued success of the Classic Titanium Pruning Shears. It has gained a great deal of attention and is continuously climbing in popularity on Amazon. Word spread quickly among Amazon customers, avid gardening enthusiasts, and gardening professionals after their video of the pruning shears was released on youtube causing a sudden rise in demand and the company rushing to keep up with the orders. The Haus & Garten executive is happy with the way things are going and considers this a major milestone for the company, highlighting how customer feedback is important to the products success not only on Amazon but also in the garden tools marketplace.
Haus & Garten broke new ground in the hand pruner market when it first introduced the titanium coating feature on their Classic Style Titanium Pruning Shears. Built to last longer than traditional pruners, the blades are made of the highest grade Japanese stainless steel, then hard chromed and treated with their proprietary titanium coating system. This protects the blade against rust and corrosion, keeps it sharp for longer, and decreases friction for easier cutting. "This is a breakthrough in the innovation of the pruning shears and gives us a major competitive advantage over other manufacturers who have seen our success and have tried to also released their own variants of this particular style pruner," said founder Greg Schultz who demonstrated how not all pruners are made equal. Many customers have expressed their satisfaction with the Classic Garden Pruner through positive reviews on Amazon. Haus & Garten customer Andre Stefan commends the product in his review: "Finally a garden shears that work and don't get dull. The titanium material does the trick." In another Amazon review, Victoria Gleyzer was also impressed with the quality of the blade saying, "The titanium bypass glides smoothly and offers the rust free surface (I managed to forget them outside in the rain and when I found them a couple of days later there was no trace of rust I usually have to clean from my other pruners)"
It's clear that the blade is one of the aspects of the pruner that Haus & Garten has focused on, but the company emphasized that there are also other notable features worth mentioning about this thoughtfully crafted garden tool. Greg further explains that this product is designed with user comfort in mind, as evident in its non-slip ergonomic handles and shock absorbing pads. The Classic Titanium Pruning Shears are ideal for people with weak hands or those that do extensive pruning for hours because they offer comfort of use and reduce the risk of repetitive motion injuries. In her Amazon review, Sheryl White seems to agree with these benefits commenting, "Best shears I have ever owned. I am 73 yrs old and found them easy to use. My hands did not tire." Customer Elaine has been very pleased using these shears for some time now despite some concerns with her hands: "I have carpal tunnel which causes me to have less hand strength and I can use these without a problem. I had trouble trying to grip other shears." Maple, another Amazon customer, expressed his delight and has this to say about the product: "Some of the high quality ones I've tried in stores have been too heavy for my hands because I have some arthritis in them. I wanted a new pair to cut easily at a comfortable weight. And that is exactly what I got!"
According to Greg, comments and feedback like this are their greatest source of measuring customer satisfaction, and so far, they are very happy with the results. The company is determined to continue this positive trend by providing premium grade products, backed by an unmatched customer experience and product support. Haus & Garten fans are encouraged like their Facebook page and join the growing community of gardening enthusiasts for daily gardening tips, latest product news, product promotions and regular sale discounts.
As a way of introducing new customers to their products, the company is giving away a special 35% discount for limited period, from 15th of February to the 24th of February, when they purchase the Haus & Garten Classic Titanium Bypass Pruning Shears on Amazon. Customers can simply enter coupon code "DVEZMVBJ" at checkout to claim this special limited-time offer.
For more information on Haus & Garten Classic Titanium Bypass Pruning Shears, please visit http://www.amazon.com/Haus-Garten-Pruning-Shears-Titanium/dp/B00CD2WB3C/
About Haus & Garten
Our focus is to provide ergonomically designed high quality products that offer performance, durability for both the professional in the industry and avid home gardener. To learn more, check out their website http://www.hausandgarten.com