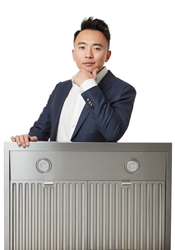 As we continue to expand operations throughout North America, we are thrilled to now offer Hauslane range hoods to the Canadian market.
SAN FRANCISCO (PRWEB) February 27, 2023
Hauslane, the world's friendliest range hood company, is proud to announce the brand's expansion to the Canadian market. In just over five years, Hauslane has become one of the fastest growing range hood brands in the United States and now enters the Canadian market with a selection of the brand's high-performing products, including island, wall-mount, built-in and under-cabinet range hood models at an attractive price point. Consumers may select products on the official Hauslane website, through several online retailers including Lowes.ca, Rona.ca, Wayfair.ca, and Walmart.ca, and in showroom locations throughout the nation, with plans for future expansion.
TWEET THIS: "The world's friendliest range hood company, Hauslane, announces its expansion into the Canadian market, providing high-performing range hoods to consumers around the nation. https://ctt.ec/cmu6_+ "
"As we continue to expand operations throughout North America, we are thrilled to now offer Hauslane range hoods to the Canadian market," said Calvin Ruan co-founder and CEO of Hauslane. "The range hood is the unsung hero of the kitchen, and Hauslane range hoods offer a sleek, sophisticated aesthetic touch while also delivering significant suction power."
All visitors to the Hauslane website may toggle between the U.S. and Canadian versions of the platform at any time, and Canadian buyers can start their journey on the new Canadian best-sellers page. Hauslane's current product offering in Canada includes:

Chef Series Under Cabinet Range Hood (UC-PS18): Available in 30-inch and 36-inch configurations, this range hood provides a versatile range of settings for recipe-specific suction and a unique three-way venting system for effortless installation.
Modern Series Wall Mounted Range Hood (WM-590): With 30-inch and 36-inch options, this canopy-style range hood combines serious suction power with an alluring, bold finish. Its single blower motor offers three speed settings, including a heavy-duty option.
Convertible Built-In Range Hood (IN-R100): This 30-inch, built-in range hood carries the advantage of a ductless or ducted circulation option to fit a wide variety of kitchen setups, while its minimalist package provides a discreet aesthetic.
Headquartered in the San Francisco Bay Area, Hauslane was founded in 2018 with a digital-first sales model and now has a presence in showrooms across the United States. This year, the brand expanded its presence in showroom locations throughout Canada, in partnership with Canadian Appliances Source.
To learn more about Hauslane and its products, visit Hauslane.com.
About Hauslane
Launched in 2018, Hauslane is the world's friendliest range hood company that has been transforming the century-old kitchen ventilation category with an easy, fun and informative purchase process. As one of the most successful and fastest growing new brands in the kitchen appliance industry, Hauslane puts people first by providing top-tier education, customer service and premium range hoods that eliminate grease and fumes from the kitchen. Its innovative and beautiful products enable home chefs to cook their favorite foods with confidence while also enhancing indoor air quality. For more information about Hauslane, call 800-929-0168 or visit Hauslane.com.