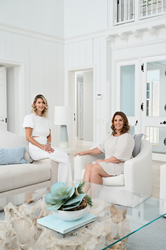 NAPLES, Fla. (PRWEB) March 21, 2023
The Haute Design Network, well known for its exclusive and luxurious lifestyle publication Haute Living, is privileged to present Chantal Warmoth and Hillary DiSabato as members and experts in the interior design field. As Haute Design partners, Knot + Tide Interiors exclusively represents the Interior Design market of Naples, FL.
Designed as a partnership-driven luxury design portal featuring two leading interior designers in each prominent market across the world, Haute Design focuses on growing its members' brands as key influencers on design and deemed to be the best in their specific market.
ABOUT KNOT + TIDE INTERIORS
Knot + Tide Interiors is a creative duo made up by Chantal Warmoth and Hillary DiSabato that revels in making dream homes a reality. They're proud to call Naples and Southwest Florida home, designing and creating high-end, coastal casual, and coastal elegant designed spaces.
Both with design backgrounds that go back to their childhood; the pair met in Naples, Florida, and founded their studio in 2019. The co-founding duo had a vision for sustainable design that was both inspiring and forward-thinking. The two deeply believe that the best designs encompass not only great beauty, but functionality as well.
Prior to K+T, Chantal earned her degree in Interior Design at High Point University and began her interior design career as CAD operator for a leading furnishings store in Naples, Florida. Within a short time, she was promoted to Design Assistant, and ultimately working with her own clients.
Meanwhile, Hillary spent ten years in Miami, FL's competitive new development sales and marketing industry, working on some of Miami's most iconic buildings. There, she developed a uniquely creative and business sense, which brought a fresh eye and new understanding to the design world. With complementary visions of the design business, the two realized it was a match.
Through a hands-on approach, their work embodies an endlessly classic coastal design that adapts to each client's needs. A timeless approach to comforting interiors inspired by the rise and fall of the tide.
With taste and expertise, they create places greater than the sum of their parts, striking a balance of function and form and finding harmony in the ebb and flow of their customer's lifestyles.