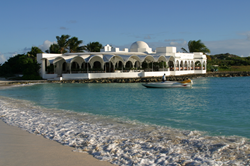 You'll hardly be able to find time to zip over to St. Maarten for a day since you'll barely want to leave Cap Juluca,
Fort Lee, New Jersey (PRWEB) September 01, 2013
Cap Jaluca already conjures images of five star resort luxury among the rich and famous. But the newly renovated public spaces of the Anguilla resort have breathed new life into the much loved resort, making it one of Frommer's top five Caribbean vacation destinations for 2013. In the latest blog from Marble Media LLC's HauteReport.com titled "Cap Juluca: A Best-kept Caribbean Resort Secret", Guest blogger Liz Ernst discusses the rising popularity of Cap Jaluca as "the" Caribbean playground to the rich and famous.
Among the premier properties on Anguilla, Cap Jaluca appears repeatedly on every list of the Caribbean's best destinations. Located on the southwestern coast of the island of Anguilla, Cap Juluca looks out over the mountains of St. Maarten in the distance; the two islands are separated by only six miles.
"You'll hardly be able to find time to zip over to St. Maarten for a day since you'll barely want to leave Cap Juluca," Ernst says.
A five-star resort, Cap Jaluca has its own white powder beach that stretches for more than two secluded miles reserved only for the resort's guests. The resort features 18 beachfront villas that offer complete tranquility and unforgettable views. Guests enjoy a freshwater pool, a spa, golf, scuba diving, water skiing, fine dining and more.
With in-season rates of $995-$1,595 per night, a vacation at Cap Jaluca is as haute as it gets on the Island of Anguilla.
For more information on the cultural couture lines heading around the world for 2013, visit the HauteReport.com website or email info(at)HauteReport(dot)com.
About Marble Media LLC:
Marble Media LLC is a creator of high-quality, content-rich blog sites that provide expansive coverage of relevant information to readers who make up a wide range of demographics. The Marble Media LLC team of expert writers covers a wide range of specialties including travel, food, health, fitness, social media, marriage, parenting, technology, weight loss, fashion and much more.
For more information on Marble Media LLC's offerings and advertising opportunities, visit the MarbleMediaLLC.com website, or email sales(at)marblemedia(dot)com.