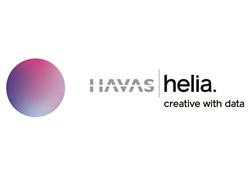 The new Havas Helia marks a significant step forward in the agency's continued evolution of its structure, operations, and offering to deliver best-in-class creativity, technology, and data.
Baltimore, MD (PRWEB) February 09, 2015
Havas Creative Group today announced that it is re-launching Baltimore-based Havas Discovery and Havas EHS (UK). The new brand, Havas Helia, will create a go-to-market brand, doubling the agency's size and revenue in 2015 locally.
Today, over 60 employees make up Baltimore's Havas Helia team. The agency has invested in its growth in Baltimore, recently redesigning its 400 East Pratt Street office space to promote collaboration and innovation. The expansion is part of Havas' commitment to creating a network that will redefine the face of data as it relates to creative and digital. It reflects Havas Helia's belief that data is at the core of its continued growth.
"For over 20 years, we have been evolving and growing in Baltimore. We offer a unique agency experience for clients, with global reach and local resources," said Robert Poulin, President of Havas Helia in Baltimore. "The new Havas Helia highlights our dedication to building on our strong data heritage and marks a significant step forward in the agency's continued evolution of its structure, operations, and offering to deliver best-in-class creativity, technology, and data."
Throughout 2015, Baltimore's Havas Helia team is expected to reach approximately 100 local employees, focusing on hiring talent with digital, technology, data analytics and creative experience to service global accounts as well as Mid-Atlantic companies like Constellation Energy and AARP.
Along with Baltimore, the expansion creates a global brand across the US (Chicago, Richmond, and New York), Europe (London, Cirencester, Warsaw), and China (Shanghai) with expansion planned to Sydney, Singapore and Cape Town in 2015.
The Havas Helia group will start with a combined data-related revenue of over $70 million, more than 200 data scientists, 700 staff, and a client roster that includes Unilever, easyJet, IBM, Diageo, Sony PlayStation, Liberty Mutual, and DISH.
About Havas Discovery (now Havas Helia): Havas Discovery is a more intelligent digital, CRM, and data intelligence agency, with offices in four US cities serving brands around the world. We focus not just on creating transactions with customers and consumers, but also on creating relationships that build loyalty over time. Our skills in data capture and analytics fuel powerful strategies to generate more qualified leads, motivate action, build ongoing loyalty, and measure results, all while optimizing marketing spend. Havas Discovery specializes in delivering large-scale direct marketing, loyalty, CRM, eCommerce, demand generation, data intelligence, and analytics programs across a spectrum of B2B and B2C clients.
About Havas EHS (now Havas Helia): Havas EHS, part of the Havas network, is a full-service global agency, and the sole global digital agency of record for Dove, Surf, and more recently, Dove Men+Care, with clients as diverse as Tesco Clubcard, E.ON, and Volvo. Through our creative focus on innovation and digital initiatives we saw double-digit growth in 2014, with new wins from Viking Cruises and Heathrow, plus new business from existing clients such as TSB and Unilever, new awards for clients including Pets at Home and easyJet, and over 100 new hires across all disciplines. We are building on our data reputation with the launch of new market-leading data and digital products in the UK and globally. Now rebranded as Havas Helia, the former Havas EHS is reshaping its future at real pace, with real results.