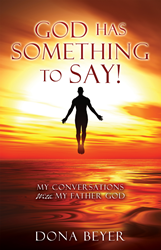 I pray this book will provide readers with a divine revelation of God so that you can have a heart to heart relationship through your own conversations with your Father God, when you listen and obey when you hear what He wants to say to you
MERRILL, Wis. (PRWEB) May 12, 2022
Author Dona Beyer shares her divine messages from God with readers as a way to inspire spiritual growth in God Has Something to Say!: My Conversations With My Father God ($12.49, paperback, 9781662846908; $5.99, e-book, 9781662846915).
Beyer's journey began when she experienced a supernatural manifestation of the Glory of God. She saw what she describes as a giant sun with the brightest light she had ever seen. Beyer then heard an audible still sweet gentle male voice saying, "All you have to do is have faith and she will live." In her book, she further describes the meaning of that phrase, along with other personal testimony to help readers understand and see how Jesus has touched and changed her life. She has witnessed signs, miracles, and wonders, and will show readers how to see, hear and experience Jesus everyday just as she does. Beyer's hope is that everyone who reads this book will learn to experience a friendship and love of Jesus for themselves.
"I pray this book will provide readers with a divine revelation of God so that you can have a heart to heart relationship through your own conversations with your Father God, when you listen and obey when you hear what He wants to say to you," said Beyer.
Dona Beyer loves Jesus and is happily married to her husband, Scott. They reside in North Central Wisconsin. Beyer's heart is for everyone to experience the heart of her Father God, Jesus through the Holy Spirit, and to grow in His Presence, His Power and His love. Her writing talent goes back to the eighth grade, when at graduation, she was presented with a medal, an award for creative writing. According to the author, God told her to write of the signs, miracles and wonders as a testimony to Jesus as the Holy Spirit guided her. Besides writing, Beyer enjoys the summer months, walking, biking, fishing with her husband, and swimming with her grandchildren. She also enjoys reading her bible and Christian books, worship and fellowship with people.
###
Xulon Press, a division of Salem Media Group, is the world's largest Christian self-publisher, with more than 15,000 titles published to date. God Has Something to Say!: My Conversations With My Father God is available online through xulonpress.com/bookstore, amazon.com, and barnesandnoble.com.