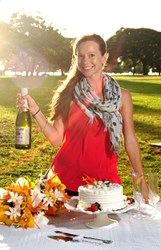 This is a perfect idea for two couples traveling together to Hawaii. - Amanda
Honolulu, HI (PRWEB) August 23, 2013
Hawaiian Style Weddings, one of Hawaii's leading wedding planning and coordinating concerns has created a "Double Hawaiian Vow Renewal" package. What this new package consists of is a Hawaiian style vow renewal for two couples. They have seen a demand for this service as many couple travel together.
The "Double Hawaiian Vow Renewal" package consists of doing two vow renewal ceremonies. They can be done at the same time or back to back. This package is available on all the major Hawaiian Islands including Hawaii, Kauai, Maui and Oahu.
The Hawaiian Style Weddings vow renewal package will include a permit for whichever beach the clients choose. They also get a minister/officiate of choice, two leis that are used in the ceremony and each couple will also receive a keepsake vow renewal certificate to commemorate the occasion.
The cost for this package is only $400 if done simultaneously and $495 if done back to back. The clients can also elect to get other services at an additional cost. The most popular options to add are a photographer, flower options including bouquets, music and video.
The "Double Hawaiian Vow Renewal" package by Hawaiian Style Weddings offers the ability to customize the ceremony. Many of the couples that do a vow renewal have something special to say to each other during the ceremony. Our ministers will make sure they can integrate that into the ceremony.
Hawaiian Style Weddings usually suggests that their clients do their ceremony prior to sunset then go off and have a great dinner experience. Their coordinator Amanda Faustne is happy to suggest the right restaurant depending on where they have the ceremony. On the Island of Kauai they usually suggest having the renewal done at Shipwreck beach and then having dinner reservations after at "Tidepools" a restaurant within the spectacular Grand Hyatt Resort.