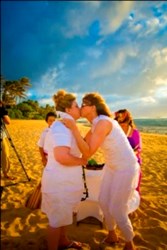 Honolulu, HI (PRWEB) September 11, 2013
Maui'd Forever is one of Hawaii's few full service, all-Hawaiian Islands wedding planner and coordinator. Founded in 2003 by entrepreneur Mark Steffan, the company operates on the Hawaiian Islands of Oahu, Maui, Kauai and the Big Island of Hawaii. They allow their clients to preview a video of an actual ceremony so the know what to expect.
Having wed over 3300 couples Maui'd Forever has also coordinated many civil unions. Now the State of Hawaii is considering giving full legal marriage status to same sex couples. Maui'd Forever owner Mark Steffan says "We are ready to do same sex weddings. Our civil union ceremonies will simply become wedding ceremonies. Nothing will change in the way we do things. It will simply be a more full legal status for those same sex couples.
As seen on his website Monday September 9, 2013 Hawaii Gov. Neil Abercrombie personally wrote a letter to his constituents that said "Earlier this year, the U.S. Supreme Court ruled that the Defense of Marriage Act, the law barring the federal government from recognizing same-sex marriages legalized by the states, was unconstitutional. In essence, the court's ruling also enables states across the country to address the right to marry.
I am calling for a special legislative session because we must ensure the civil rights of every citizen are protected. There is no reason to deny the benefits of marriage to any individual. Marriage is a choice that is made by people who want to make a lifelong commitment. This is a right that is as sacred as our right to vote.
I am asking legislators to vote during the special session to allow same-sex couples to be legally married in the state of Hawai'i.
This is a civil right, and it can no longer be denied. I've held firmly to this belief in my life and political career. One of the lessons learned from the civil rights movement is that to achieve success in the fight for justice, we should not and cannot wait to correct a wrong.
Now is the time to make this right".
In the meantime Maui'd Forever and Hawaiian Style Weddings, two of the largest Hawaii wedding planning companies will continue to offer civil union ceremonies.