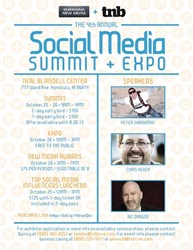 Honolulu, HI (PRWEB) August 19, 2013
Technology News Bytes & Emerging New Media are hosting the largest social media event in Honolulu this year - the Hawaii Social Media Summit & Expo at the Neal Blaisdell Center on October 25th-26th from 9:00am-4:00pm.
Learn from the top social media leaders in this highly competitive, cutting-edge field who consistently stay ahead of new trends and maintain a following with their dynamic personalities and powerful communication skills. Speakers include Peter Shankman, founder of Shankman|Honig and Help A Reporter Out; Chris Heuer, AdHocnium; Ric Dragon, founder of Dragon Search; Nick Unsworth, CEO of Smachitsocial.com; Rob Bertholf, SurroundsMe; and Paul Colligan of Instant Customer.
The Summit also features the 3rd Annual Social Media Awards honoring "The Top 5" Social Media Influencers in Hawaii. A total of 12 social media influencers have been chosen by Technology News Bytes & Emerging New Media to be nominated for the "Top 5" Social Media Awards. These individuals have greatly and eloquently impacted their community through a variety of social media platforms. The final "The Top 5" will be chosen by the public at http://hawaiitechevents.com/the-top-5-social-media-award/. Voting ends August 31st, 2013.
Event details:
● Hawaii Social Media Summit October 25-26, 2013, 9:00am-4:00pm.
● Early bird special: $150 for 2-day ticket & $100 for 1-day ticket, offer ends August 26, 2013.
● Get your tickets at http://hawaiitechevents.com
● Social Media Expo October 26, 2013, 10:00am-3:00pm.
● The Social Media Expo is free and open to the public.
● Location: Neal Blaisdell Center, 777 Ward Ave, Honolulu, HI 96814
In conjunction with the two-day Hawaii Social Media Summit on October 25-26, the inaugural Social Media Expo from 9:00am-3:00pm on October 26. The expo provides the opportunity for businesses and organizations to present their latest products, services, and innovations through exhibits and live presentations to a social media savvy audience. Participating vendors will have the opportunity to network with other professionals in the field, plus reach a multitude of potential customers in a single location, a quick and cost-effective way of promoting their business.
Exhibitor spaces are available for $500 per 10ft x 10ft booth. For an application or more information on available exhibit or sponsorships opportunities, please contact Quincy Solano at quincy(at)tnblive(dot)com (808) 381-2552.
About Technology News Bytes & Emerging New Media:
Technology News Bytes is a Honolulu-based network that successfully connects high-tech businesses to the most diverse and qualified customers in Hawaii and the Pacific Rim, enabling technology consumers to make more informed decisions about technology businesses, products, and services.
Emerging New Media offers services such as social media marketing and strategy, online writing, copy editing, photography, web video services, programming, web graphics/design, content development and S.E.O.
For more event information, please call Genesis Leong at (808) 225-5011 or email genesis(at)tnblive(dot)com or visit http://www.hawaiitechevents.com.
###