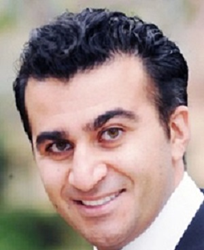 Hawthorne, CA (PRWEB) November 18, 2014
Hawthorne cosmetic dentist, Dr. Yashari, is now making dental implants more affordable for patients. Nearly 70 percent of Americans over the age of 35 are missing a tooth. Of those over the age of 74, 25 percent are missing not just one but all of their natural teeth. Several tooth replacement options are available, but only one offers a look, feel, and function that closely resembles that of natural teeth.
This special includes a complimentary consultation that allows patients to learn more about their options. Additionally, for just $1,999, patients will receive:

The implant, which is inserted into the jawbone
The abutment, which secures the implant to the prosthetic tooth
The dental crown, which replaces the lost tooth
Oral surgery expert, Dr. Yashari, uses natural-looking porcelain restorations that have the same translucence and color of patients' own teeth. Dental implants can be used with not just dental crowns but also bridges and dentures in some cases. This special allows patients to replace lost teeth at a price that can fit more easily into their budgets. A beautiful, healthy smile is now more affordable than ever.
This type of dental implant has been used since the 1970s and is generally made of dental titanium, which is highly biocompatible and fuses with the jawbone for a strong, sturdy foundation. Once a tooth has been restored with a dental implant, it can last a lifetime without staining or decaying, and the bone stays strong and healthy because it is being properly stimulated with every bite. Patients may be candidates for dental implants if they have lost one or more teeth, have good dental health, have good general health, and have adequate bone density to support the restoration.
About Dr. Yashari, Expert in Dental Implants Hawthorne
Dr. Yashari is a top Hawthorne dentist whose primary concern is his patients' well-being. He is committed to making them feel right at home and relaxed, and he has helped many patients conquer their dental anxieties and phobias. A graduate of UCLA's School of Dentistry, Dr. Yashari has excellent credentials and has trained with some of the top area dentists. He has continued his advanced education in various fields of dentistry and is multilingual, which allows him to better communicate with patients from diverse walks of life.