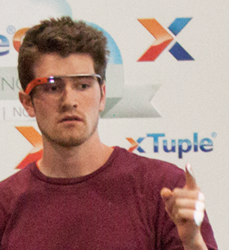 xTuple developers lead the world among open source enterprise resource planning (ERP) projects in resolving reported bugs, with a close rate of over 94%.
Norfolk, Virginia (USA) (PRWEB) July 24, 2014
xTuple invites developers worldwide to the company's next open source developer contest, haxTuple 2014, a month-long hackathon and bug derby.
As in previous incarnations, xTuple opens its Qt/C++ Desktop client bug-shooting derby to the global open source community, with prizes for the most effective bug-squashers. Additionally this year, the company is including its new JavaScript-based Mobile Web technologies in the competition.
In addition to fixing bugs, developers who write the best JavaScript extensions or REST-based integrations to xTuple can also earn prizes. This event is a prelude to the company's annual user conference xTupleCon14 held October 13-18, 2014.
"Our team will be focused throughout the competition on answering questions and providing guidance. This really is your best opportunity to get your feet wet with our new technology, in particular," said Steve Hackbarth, xTuple director of software development and haxTuple organizer.
xTuple has long enjoyed a reputation as being extremely responsive to community-reported bugs and feature requests. xTuple developers lead the world among open source enterprise resource planning (ERP) projects in resolving reported bugs, with a close rate of over 94%, according to statistics collected by xTuple VP of knowledge management Pierce Tyler. The haxTuple event is an opportunity for the community to participate in that process and help the product continue to improve in quality.
Terms of the competition
The first-prize winner will be determined by an objective metric: one point per bug fixed, on either the Desktop or Mobile Web client. Scores are doubled for any practical Mobile Web extension (essentially a "mini-module" that snaps into the Mobile Web client), or a REST-based integration of another technology or client application. Throughout the competition, the xTuple development team will answer questions and provide guidance on the new technology stack.
The prizes
First prize is a genuine Google Glass, the revolutionary wearable computer that attaches to conventional eyeglasses and provides a heads-up display superimposed over the wearer's field of vision. xTuple developed an integration of Glass with xTuple ERP, allowing warehouse workers to perform hands-free barcode scanning in picking and shipping operations.
Second prize is a new Motorola TC55, a ruggedized, warehouse-ready barcode scanner-enabled Android device, also used as a mobile inventory solution.
Other fabulously geeky prizes are planned for those who don't win top honors, and everyone who fixes at least three bugs receives the exclusive haxTuple t-shirt.
In partnership with local software development groups, xTuple is also planning scholarships for haxTuple participants to attend xTuple's fall conference for the opportunity to meet the legendary Steve Wozniak, xTupleCon14's opening speaker.
Events and Timetable
August 6: haxTuple Kick-off webinar - live announcement and rules review, followed by a question and answer (Q&A) session.
August 9-10: haxTuple Kick-off weekend - local developers meet at xTuple's corporate headquarters at 118 West Bute Street, Norfolk, Virginia (USA), for a weekend-long in-person hackathon. As an introduction to the month-long hacking contest, participants will learn about the company's open source platform and enterprise JavaScript and REST API.
September 5: The competition closes. Winners are announced.
October 16: Winners are presented at the xTupleCon14 Community Awards dinner with special guests City of Norfolk Mayor Paul Fraim and Karen Jackson, Commonwealth of Virginia Secretary of Technology.
Technical details
Resource repository at xTuple's GitHub wiki, including how-to video tutorials.
The competition will begin soon after the release of xTuple version 4.6, the starting point for the competition code. Throughout the competition, the development team will maintain a haxTuple branch in the relevant GitHub repositories, which will be folded into xTuple version 4.8, scheduled for a final release in October.
Tweets:

Welcome to Days of Future Apps #xTupleCon14 & get there by winning haxTuple
haxTuple – community bug-swatting contest – ready for a rematch? [August 8 kick-off]
Squashing Bugs to Meet Steve Wozniak: Calling all #opensource Developers [haxTuple] August 6
Kick off next quadrennial #opensource developer contest [haxTuple] August 9-10 #NorfolkVA
Calling global #opensource community: Qt Desktop client bug-shooting derby [haxTuple]
Are you a bug-squasher? Introducing our Web-app! Join #opensource developer contest [haxTuple]
Write JavaScript extensions or REST clients? Earn prizes. [#opensource haxTuple]
About #xTupleCon14
Held in the downtown business district at the premier Norfolk Marriott Waterside Hotel and Conference Center, the annual xTupleCon brings together a global community of open source technologists and ERP users to learn, collaborate and innovate. For 2014, attendees experience two days of in-depth pre-conference hands-on workshops, a VIP welcome reception, awards dinner, door prizes, invaluable training, and more. xTupleCon14's week-long events run Monday, October 13, through Saturday, October 18, 2014.
About xTuple, the world's #1 open source ERP
Award-winning xTuple, makers of the world's leading suite of open source accounting, Corporate Relationship Management (CRM) and Enterprise Resource Planning (ERP), is supply chain management software for growing businesses to control their operations and profitability. xTuple integrates all critical functional areas in one modular system: sales, financials and operations — including customer and supplier management, inventory control, manufacturing and distribution – the powerful tools to Grow Your World®.
As a commercial open source company, xTuple works with a global community of tens of thousands of professional users. xTuple gives customers the ability to tailor solutions with multi-platform support for Windows, Mac, Linux and mobile as well as flexible licensing and pricing options. Connect with the company at xTuple.com, with the open source community at xTuple.org, and join the innovation conversation at NextBusinessBlog.com.
CIO Review named xTuple a top company in the forefront of tackling Manufacturing Technology challenges and impacting today's marketplace.
xTuple Supports Innovation
From blueprints to buildouts, xTuple helps foster startups in the heart of the Mid-Atlantic technology corridor between Research Triangle, North Carolina, and Washington, D.C., as a committed, passionate member of the Norfolk/Virginia Beach tech community. Learn more at xTuple.com/aboutus.
Reference the xTuple Style Guide (xSG): xTuple.com/xSG