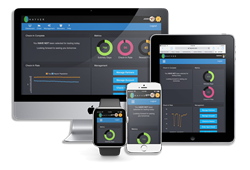 HAYVER provides a revolutionary, first-of-its-kind verification technology to monitor those suffering from drug addiction or alcoholism, to help ensure they are drug-free and alcohol-free.
ATLANTA (PRWEB) September 27, 2018
HAYVER provides its clients, recovery facilities and those addicted to drug or alcohol, a life-changing continuing care digital platform to tackle Substance Use Disorder (SUD). Through a partnership with Swiss Growth Forum (SGF), an exclusive crypto-conference that highlights growth companies seeking capital and/or greater exposure, HAYVER has embarked on a European tour including meetings in London, Lugano, Zurich, Geneva and Monaco.
"Our mission at HAYVER DIGITAL HEALTH is to save lives by helping people with chronic addiction stay clean and sober. We are excited with the vote of confidence shown by our first investor on this European Road Show providing a $300,000 investment. The HAYVER platform is currently used by recovery residences and treatment centers in multiple states and by the general public. Partnering with a proven and respected industry leader in helping growth funds, Andreea Porcelli, SGF's Founder, has already made a major impact for HAYVER," said HAYVER Co-Founder and CEO Barry Hayut.
"With the HAYVER Platform already helping people overcome Substance Use Disorder, SGF can help them scale the user base and add new channels like health plans, insurance companies, and employer benefits programs by facilitating the token sales activities through our long-term relationships with hundreds of family offices and institutional purchasers," Porcelli commented.
Meetings are being held at the following locations in Europe:
September 25: London -- The Langham @ 12 noon
September 28: Lugano – Hotel Splendide Royal @ 12:30 pm
October 1: Zurich -- Zunfthaus zur Zimmerleuten @ 12 noon
October 2: Geneva -- Grand Hotel Kempinski @ 6:30 pm
October 3: Monaco – Hotel Hermitage @ 6:00 pm
HAYVER's platform is based on decades of a proven methodology; it is a simple-to-use drug and alcohol verification system that requires daily check-ins and random urine screens, while providing a real-time look into the recovery progress of those suffering from alcoholism and drug addiction. The mobile platform incorporates the blockchain technology by creating a flexible open architecture and cryptocurrency incentives.
HAYVER is now poised to address the worldwide addiction problem at a deeper level. It is launching a cryptocurrency, the Duitcoin. The Duitcoin will be grounded in the shared values of the blockchain and recovery communities, including decentralization, privacy, peer empowerment and a commitment to making the world a better place for everyone. The Duitcoin will be used to incentivize and reward app users and others who engage in behaviors that promote addiction recovery. More than that, Hayver envisions that the Duitcoin will become the basis of a blended altruistic and commercial economy serving the special needs of addicted persons.
HAYVER's modalities are based on data from new research that demonstrates the effective means by which an addicted person's brain begins the healing process through abstinence. This abstinence can be effectively achieved through well-tested and proven methods utilized by HAYVER that can ensure up to 78 percent of people remain substance-free even after five years. Further information about HAYVER can be found at hayver.io
About 21 million Americans suffer from drug and alcohol addiction. To put this into perspective, about 15 million Americans currently suffer from all forms of cancer combined. Deaths in the U.S. resulting from alcohol and drug misuse total more than 135,000 each year, making it the number one killer of Americans under the age of 50. Like other chronic and fatal diseases, drug addiction and alcoholism can be managed, although relapse is common without a tool like HAYVER.
HAYVER's strategy is centered around new research that demonstrates the detrimental effects of alcohol and drugs on the brain, and the brain's subsequent repair following a period of drug and alcohol abstinence. The company's methods are based on well-tested and proven methods in professional programs for physicians and pilots that help about 78% of participants remain clean even after five years.
ABOUT HAYVER
HAYVER provides a revolutionary, first-of-its-kind verification technology to monitor those suffering from drug addiction or alcoholism, to help ensure they are drug-free and alcohol-free. With daily check-ins, a unique Circle of Support (an accountability group), and random urine screens, and, soon, cryptocurrency rewards to incentivize healthy behaviors by Hayver users, Hayver helps people stay clean and improve their long-term recovery success.
Contact Info:
Barry Hayut, Co-Founder, CEO
BHayut(at)Hayver.com
Phone number: 678-701-9122
John M. Copenhaver, MD, Co-Founder, Chief Medical Officer
JCopenhaver(at)Hayver.com
Phone number: 1-844-874-4226