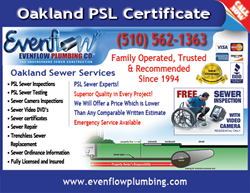 Whether it's Ebola or Enterovirus people often forget that these diseases as well as other pathogens can be transmitted through exposure to raw sewage
Hayward, CA (PRWEB) October 14, 2014
Hayward sewer repair and replacement plumbers at Evenflow Trenchless are experts when it comes to following the proper procedures to not spread diseases from raw sewage exposure. "Whether it's Ebola or Enterovirus people often forget that these diseases as well as other pathogens can be transmitted through exposure to raw sewage," says Gary of Evenflow Trenchless. "We follow procedures to make sure that we don't track any traces of raw sewage into your home when we are performing trenchless sewer replacement services."
Ebola and other contagious diseases can be transmitted through sewage because human feces contain the virus if excreted by an infected person. In many situations unlicensed plumbers who perform routine drain or sewer line cleanings with snakes aren't trained on proper procedures for keeping raw sewage out of houses. Evenflow Trenchless is highly trained. "People can be exposed to Ebola and other contagious diseases very easily. If the sewer cleaning person you hire uses a snake then contaminates get all over the gloves and boots of the person running the snake. When that person walks into your home dangerous pathogens are being brought in. In most cases when people get sick from this type of exposure they just assume they got the flu or other virus from some other place," says Gary.
Evenflow Trenchless recommends hiring licensed plumbing and Oakland sewer repair contractors who wear foot protection and gloves when dealing with raw sewage before entering the home. "Most people use chemicals that kill germs on hard surfaces like hardwood floors or tile, but carpet doesn't get the same type of attention. If there is sewage at your house the insurance company pays a professional damage restoration company to deal with the problem. That is because they know the risks," says Gary.
Evenflow Trenchless is a full service Hayward sewer repair company. They handle Oakland trenchless sewer pipe replacement and sewer cleaning and inspection services. In addition to being licensed sewer contractors they are also a full service Hayward plumbing company. Their staff is highly trained and they are always on the lookout for more advanced training according to Gary, "I provide our team with the most advanced equipment available, additionally I always make sure our guys have the most up to date training."
To learn more about the Oakland sewer repair plumbers at Evenflow Trenchless please visit their website. People are also invited to view their Yelp reviews. In addition people looking to hire a Hayward sewer repair expert can also view their online videos or read their press releases.
Evenflow Trenchless
3542 Fruitvale Ave
Suite 119
Oakland, CA 94602
(510) 536-1100