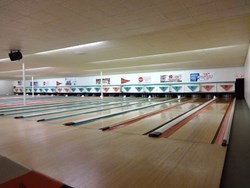 Hazelwood, MO (PRWEB) February 11, 2014
A bowling alley with the potential to turn a profit for an investor is one of the featured items in Micoley.com's February auction event.
For those whose taste in investment Real Estate tends toward the fun, Hazelwood Bowl is a popular hangout for locals in suburban St. Louis. The event on February 22 features undeveloped land, commercial properties, multiple and single family residential property and more, but this bowling alley is perhaps the most fun lot in this exciting auction.
Hazelwood Bowl has played host to bowling tournaments through the decades, along with events for the whole family, and just day-to-day bowling. And, these activities show no sign of stopping, even if a new owner enters the picture. The first game was bowled there in the 1950s, and it has retained its mid century splendor to this day. Some might find the interior "atomic aged" or "retro," while others might say it simply looks like a bowling alley.
Features include some of the latest in computerized scoring equipment, plus a full service bar serving refreshments to bowlers, and boosting revenue. There's a snack bar, served by a good-sized kitchen that has maintained a high standard for its food service over the years -- for a bowling alley anyway. The location features a banquet room for private events, and everything an investor or a community could want in a family-friendly hangout spot.
The opening bid is set for $350,000, which is well below the property's list price of $675,000.
The City of Hazelwood itself has been a St. Louis suburb since 1949, after first being known as part of the Florissant Valley unincorporated area. The origin of the city was actually a period of industrialization and upheaval, pitting the largely agricultural residents of the area against the neighboring city of Florissant when it attempted to annex Hazelwood in order to tax it. The farmers won, and today there's not the slightest hint of bad blood between the neighboring cities.
Today, Hazelwood is one of the largest cities in St. Louis County, with almost 30 thousand residents. It is a friendly, middle class community with a low crime rate.
The building, like most bowling alleys, is quite large at 21,238 square feet. It sits on a 1.56 acre lot including ample parking. Residents enjoy having a bowling alley, but naturally a new buyer could do with it as they pleased.
Past bowling alley conversions that have worked well included renovations that turned them into other sorts of family fun centers, such as skating or laser tag. Some have been converted into dance studios or fitness centers. The ample interior space leaves room for a restaurant or department store, or even even a place of worship.
Interested parties should visit http://micoley.com to find more photos and details about the property, or by visiting in person and performing an inspection on site, which is highly recommended. 1-866-371-3619 is Micoley.com's information line. Additionally, Micoley.com features a live chat service through which questions can be answered.
About Micoley:
Green Bay, WI-based Micoley.com is a real estate marketing firm specializing in project focused auctions of bank-owned properties throughout the United States. The Micoley approach to real estate marketing tailors each auction plan to the client's individual needs. The site is constantly being updated for the benefit of buyers, as large scale auction events are held monthly, and new properties are added daily. Broker Firm: WM Enterprises, Inc #2011014140. Broker: Amy Wick #2011014141.