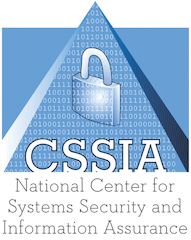 These enthusiastic students have devoted hundreds of hours utilizing CSSIA's virtual data center & curriculum.
Virginia Beach, VA (PRWEB) March 19, 2014
In spite of the growing number of colleges offering degrees, certificates and courses in cybersecurity, there is still a critical national shortage of talented cybersecurity professionals. One of the most important ways to expand the stream of cybersecurity candidates is to broaden the talent pool. To make this expansion happen, the National Center for Systems Security and Information Assurance (CSSIA) recently partnered with the Association of Computer and Information Science/Engineering Departments at Minority Institutions (ADMI) to promote cyber security student skills-based competitions.
Both ADMI and CSSIA invite companies to become part of history by sponsoring the first ever Historically Black College and University (HBCU) cybersecurity competition on April 3rd-6th in Virginia Beach, VA. The HBCU cybersecurity competition is a new addition to the ADMI conference this year. This event will provide a great opportunity for minority graduate and undergraduate students to showcase their academic knowledge and technical skills to business and government representatives.
Incorporated in 1989, ADMI caters to some of the brightest students enrolled at Historically Black Colleges and Universities. The partnership has included extensive collaboration between the staff of CSSIA and ADMI institutions, faculty development workshops, student workshops and a capture the flag style cybersecurity competition. The competition is based on standardized skills and knowledge mapped to the National Institute of Standards Technology (NIST), National Initiative for Cybersecurity Education (NICE), and National Security Agencies (NSA) Knowledge Units. This partnership will impact both graduate and undergraduate programs.
"There will be several occasions where sponsors can interact with the students and faculty, such as the reception, career fair and banquet," says Dr. Thorna Humphries, Secretary of ADMI Board, "In addition, sponsors will be able to observe and talk to students about their research during the student poster and presentation sessions."
Students will be represented by the following academic institutions; Durham Technical, Florida A&M University, Hampton University , Jackson State University, Livingstone College, Mississippi Valley State University, Montreal, Norfolk State University, North Carolina A&T University, Spelman College, Tennessee State University and Winston-Salem State University.
"These enthusiastic students have devoted hundreds of hours utilizing CSSIA's virtual data center & curriculum," states John Sands, co-PI of CSSIA.
By being a sponsor, businesses can help expand the talent pool for cybersecurity. Sponsorship support will provide experiential learning opportunities for communities that have been traditionally underrepresented in competitions. Students who participate in competitions such as ADMI's, increase their overall knowledge of cybersecurity.
For more information on sponsorship, contact Lynn Dohm at 815-717-6546.