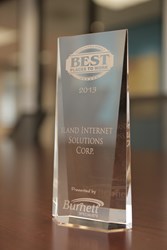 We're delighted to have been named among the Best Places to Work by the Houston Business Journal for the third consecutive year, iland CEO Scott Sparvero said.
Houston, TX (PRWEB) October 17, 2013
iland, an award-winning, enterprise cloud infrastructure provider with solutions built on VMware technology, today announced that the company has been named #1 on the Houston Business Journal's 2013 Best Places to Work list. This is the third consecutive year that iland has been recognized as one of Houston's Best Places to Work and the second consecutive year that iland has won the top spot. This award cements the cloud computing company's standing as an established leader in creating and maintaining an employee-centric culture.
iland received the award following HBJ's thorough review and evaluation of results from an anonymous company-wide online survey distributed to iland employees. Questions related to company policies, unique perks, and opportunities for improvement, such as staff feedback and suggestions on creating a more productive working environment. The collective opinion of iland employees demonstrates a high level of open communication with many educational and training opportunities available in the workplace.
The overall conclusion from the judges was that iland maintains a good balance between production, communication, an informal working environment, learning opportunities and more, with all of these characteristics combining to provide customers and partners with a great experience.
iland received the award Oct. 16, 2013 at a lunch hosted by the Houston Business Journal. iland's enterprise and continuity cloud services enable customers to cost-effectively solve challenges with scalable virtual environments.
"We're delighted to have been named among the Best Places to Work by the Houston Business Journal for the third consecutive year," iland CEO Scott Sparvero said. "As demand for cloud computing solutions continues to rise, iland has experienced explosive growth over the past 12 months and has increased its workforce by 50 percent. Despite this growth, we are committed to preserving and extending our award-winning, employee-centric atmosphere to all of our new recruits and doing our part to establish Houston as a top choice for high tech workers."
For more information about iland and cloud computing, please visit: