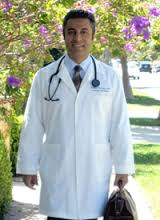 Patient care is simply superior outside of the hustle and bustle of the hospital environment, Dr. Farzam notes
Los Angeles, CA (PRWEB) May 03, 2016
According to an article published April 24th on Denver Business Journal, patients report dissatisfaction with numerous issues related to medical care in the hospital setting, which include excessive wait times to see medical personnel, issues with billing, and poor bedside manner from hospital staff. Commenting on this article, the founder of House Call Doctor Los Angeles, Dr. Michael Farzam, explains that house call medicine is well-tailored to meet the needs of patients unsatisfied with visiting their doctors in a typical hospital setting.
For starters, Dr. Farzam explains, when a patient arranges a house call visit, the doctor waits on them, not the other way around. Instead of lingering in waiting rooms full of other ill patients for hours on end, patients can anticipate their physician's arrival in the comfort of their own homes – and the typical wait time is less than one or two hours, Dr. Farzam outlines. When it comes to billing concerns, because hospitals and clinics tend to have hefty overhead expenses and operational costs and have very often been known to charge exorbitantly for them, medical house calls may be a vastly more budget conscious decision to make. Because house call doctors provide medical services directly to patients, the savings can be passed onto the patient, Dr. Farzam explains.
What's more, patient care is simply superior outside of the hustle and bustle of the hospital environment, Dr. Farzam notes. He explains that, when patients are personally visited by a doctor, the experience can be much more comforting and convenient for them than the alternative. Furthermore, Dr. Farzam adds that, being in a patient's home offers a doctor a more detailed perspective of their lifestyle and living situation. The physician can identify factors that may have an impact on the patient's health and overall well-being, which may make for more effective and accurate medical appointments.
Dr. Farzam concludes that, for almost any type of illness or injury, house call medicine is widely considered an excellent method of providing health care directly to patients. Interested readers seeking high quality medical care in the comfort of their own home are advised to reach out to House Call Doctor Los Angeles today. Appointments may be reserved by calling 310-849-7991 at any time or by visiting the practice online at http://www.HouseCallDoctorLA.com. Dr. Farzam and his staff of highly experienced medical professionals look forward to meeting the needs of interested readers and helping them feel their very best.