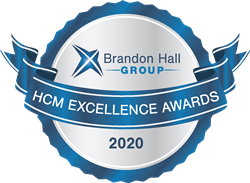 Our mission is to identify and recognize people and organizations that are excellent and share their success stories to empower and inspire others
BOCA RATON, Fla. (PRWEB) March 02, 2020
Brandon Hall Group, the leading independent human capital management research and advisory firm, is currently accepting applications for the 27th annual HCM Excellence Awards.
The awards program is open until April 17th and organizations can apply at http://www.brandonhall.com/excellenceawards.
"Our mission is to identify and recognize people and organizations that are excellent and share their success stories to empower and inspire others," said Rachel Cooke, COO and head of Brandon Hall Group's awards program.
Winning an Excellence Award confirms your team's hard work and their role in achieving measurable business results. Award winners often use this to confirm — to themselves, their teams and their companies — that they are on the right track. The awards also serve as a key benchmark for next year's planning and budgeting.
"The Excellence Awards are the Academy Awards of Human Capital Management for the learning, talent and HR communities," said Brandon Hall Group CEO Mike Cooke. "We were pioneers in recognizing organizations HCM programs 27 years ago and are proud to see the growth of this largest, most-valued HCM awards program."
Award categories: There are 100 categories across seven award divisions: Learning and Development, Leadership Development, Talent Management, Talent Acquisition, Workforce Management, Sales Enablement and Corporate Initiatives.
Who should enter: Training, learning, talent, HR and related department can enter alone or with a helping organization (a solution provider or consultant). Helping organizations cannot enter alone.
Judging criteria: Each submission is carefully reviewed and judged in five categories: fit to the need; how the program was designed; how the program was delivered; what measurable benefit the program provides; and its overall impact on the organization. Awards are presented in three tiers: Gold, Silver and Bronze.
Major 2019 winners: Companies winning six or more Human Capital Management Excellence Awards in 2019 include Accenture, NIIT, Sweetrush, Royal Dutch Shell, Cognizant Technology Solutions, BTS, Deloitte, MPS Interactive Services, Metlife, SAP, Bank of America, CrossKnowledge, Mercer, Docebo, The Estee Lauder Companies, Hilton, GP Strategies, Siyona Tech, Dell Technologies, Bridgestone America, Genpact, Pepsi Co, AllenComm, Nestle, IQVIA, PWC, Swiss Re, NovoEd and EY.
To learn more about the HCM Excellence Awards visit https://www.brandonhall.com/excellenceawards/.
---About Brandon Hall Group Inc.
Brandon Hall Group is an HCM research and advisory services firm that provides insights around key performance areas, including Learning and Development, Talent Management, Leadership Development, Talent Acquisition and HR/Workforce Management.
With more than 10,000 clients globally and 25 years of delivering world-class research and advisory services, Brandon Hall Group is focused on developing research that drives performance in emerging and large organizations, and provides strategic insights for executives and practitioners responsible for growth and business results.
At the core of our offerings is a Membership Program that combines research, benchmarking and unlimited access to data and analysts. The Membership Program offers insights and best practices to enable executives and practitioners to make the right decisions about people, processes, and systems, coalesced with analyst advisory services which aim to put the research into action in a way that is practical and efficient. (http://www.brandonhall.com)