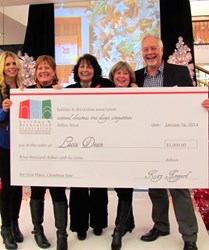 Dallas, Texas (PRWEB) February 18, 2014
It was Christmas in January for the winners of over $8,000 in the Holiday and Decorative Association (HDA) Annual Christmas Tree Design Competition. Winners were announced at the Rockin Around the Christmas Tree Party held during the Dallas Holiday and Home Expo on January 16, 2014.
Lucia Deen, lead visual merchandiser and buyer for The Paul Michael Company, Canton, Texas, took home $3,000 for the first place Christmas Tree design with a beautiful white birch theme. Jeremy Trentelman of Olive & Dahlia, Ogden, UT, won second place and $2,000 with a unique upside down Christmas Tree design. Third place winner, Troy Villager of T.Villager Designs, Nashville, TN, used copper piping for his winning tree design. Shayla Copas of Shayla Copas Interiors, Little Rock, AR, won best wreath. To see the full list and photos of the winners, visit the HDA Facebook page.
The HDA National Christmas Tree Design Competition is open to all holiday and decorative professionals. Entries are submitted online at christmastreedesign.com and are eligible to win based on best use of silver, santa, fabric and mesh, ornaments, dried and preserved, berries and floral and color mix. Winners were chosen based on a panel
of judges.
The annual competition was sponsored by HDA, the Dallas Market Center, Craig Bachman Imports, Inc, Dallas Market Center, Design Master Color Tool, Inc, Direct Export Company, Farrisilk, Inc, Holiday & Decorative Association, Karen Didion Originals, Natural Botanicals, Regency International, Seasons Direct Imports and Schusters of Texas.
HDA will announce the details of the next contest at the Dallas Total Home and Gift Market held June 18 - 24 at the Dallas Market Center.
The Holiday & Decorative Association (HDA) is the nation's only organization representing all segments of the permanent botanical, holiday and decorative accessories industry. HDA represents, promotes and supports the commercial and creative efforts of the holiday and decorative industries. Joining HDA is just $500 per year for Wholesalers and Importers and $100 per year for Designers, Sales Reps and Retailers.