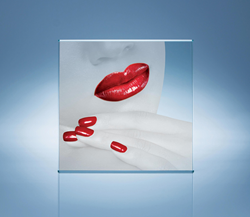 See, touch and feel with difference with HDEnhance decorative window films
Ontario, California (PRWEB) March 18, 2014
In the crowded main street, retailers are faced with the constant challenge to keep customers coming back to their stores. HDEnhance offers the perfect solution to attract customers by enhancing products/images on storefront and in-store POP displays, all thanks to an innovative new product release from HDClear – the global decorative window film market leaders.
HDEnhance uses a high definition printing process, that allows any part of an image to be enhanced with up to 6 layers of ink, which creates rich and saturated areas of color or white with a raised 3D textured feel.
Robert Davis, Director of Sales for HDClear commented: "The pre-launch feedback from national retailers on HDEnhance has been very positive, we are really excited about this latest product launch and the advantages it brings for retail product promotion. We also have seen a big interest from interior designers and architects who are looking to ultilize HDEnhance for corporate applications on glazed office and meeting room partitions."
In addition to the obvious visual benefits HDEnhance brings, HDClear says the product has numerous other advantages over traditional vinyl solutions. Patterns and graphics can be seamless for a better finish and have no edges that might attract picking or other damage. The manufacturer says the range also blocks 99% of all incoming UV light and can reduce solar energy by up to16%.
Robert Davis went on to say: "With a growing global client base we are working harder than ever to continually evolve and improve our products and move the industry forward. HDEnhance opens up a world of new decorative window film possibilities for retailers, architects, designers and agencies looking for a point of difference."
HDClear provide an optically clear polyester-based PET decorative window film. Using a unique eight printing process on the film that includes color and white UV inks, HDClear provides optically clear decorative window graphics that appear as though they are printed direct to glass.
HDClear is an Ontario, California based company that manufacturers custom printed decorative window films to a growing global market. Since 2012, HDClear has consistently been at the forefront of decorative window film technology and development. HDClear is part of The AmGraph Group a privately held company. For more information on HDClear please visit our website.