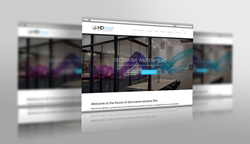 HDClear products and services unleashes out-of-the-box creativity for outstanding graphic environments.
Ontario, California (PRWEB) July 21, 2015
Following a period of extensive testing and development, the world-leading manufacturer and supplier of custom printed decorative window films, HDClear is excited to launch 3 new products; HDFade, HDCling and HDExterior to their product range of custom printed decorative window films.
The new website has also benefited from a complete redesign and an improved user experience for mobile and tablet users. The site features an extensive range of custom printed window films and a great knowledge base resource for Architects, Designers and Window Film Installers.
HDClear's new product additions have come at a time when Architects, Interior Designers and Retailers are calling out for more creative versatility when it comes to decorative window film; the competition to stand-out on the high-street has never been more demanding.
HDFade: Custom Printed Decorative Fades For Any Glass Size
Provides any fade, gradation, pattern, color and translucency to any shape of flat-glass panel. HDClear's optically clear decorative window film promotes graphic environments with full coverage of glass. 72" film coverage means that design can be custom printed, seam free and can grow past a single thin band of film.
HDCling: Short Term Removable Glass Graphics
These window films can be printed with color and white inks, making it an ideal alternative for static cling graphics. Perfect for seasonal, promotional and regional marketing efforts where re-using graphics is more economical. Easily installed with water and a shower squeegee, HDCling can lie perfectly on glass and easily removed when an advertising campaign has ended.
HDExterior: Transforming exterior glass and wall surfaces
Durability is key when using exterior decorative window films. At times when creative graphics can't be reverse applied to an inside window, the 3 exterior options covered in HDExterior should be fully explored.
Its durability is second-to-none in the decorative window film industry and is meant to withstand a New York blizzard and a Los Angeles heat wave. Anti-Graffiti, Wall Wrap and Perforated films provide a complete solution to external window displays.
All 3 of these new decorative window film products from HDClear come with an industry-beating 10-year warranty – Architects, Designers and Retailers can be sure that their custom printed decorative window films will last far beyond the average advertising campaign that many of the graphic films are used for. With many traditional vinyl solutions providing a 5 to 7-year warranty, this latest development provides a further point-of-difference for HDClear in a growing decorative window film market.
During the development process, the HDClear team has advanced the high definition printing, color and white ink density and opacity of the finished printed window film.
HDClear is a Southern California based company that manufacturers custom printed decorative window films to a growing global market. Since 2012, HDClear has consistently been at the forefront of decorative window film technology and development. HDClear is part of The AmGraph Group a privately held company. For more information on HDClear please visit our website.