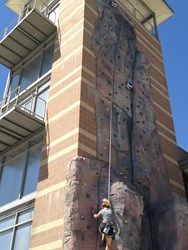 We are excited to bring this much-needed TRUBLUE XL AutoBelay product to our customers.
Boulder, CO (PRWEB) November 26, 2013
Head Rush Technologies today announces the launch of the TRUBLUE XL Auto Belay. Using the same magnetic eddy current braking technology as the market-leading TRUBLUE Auto Belay, the TRUBLUE XL accommodates climbing walls as high as 65 feet (19.8 meters).
"I love the TRUBLUE XL Auto Belays. I find them amazing for training on tall walls and for warming up," said Evan Race of Brooklyn Boulders Sommerville. "It was great to have some first time climbers get to the top of our tallest walls due to these. It's a fantastic feeling for them and us to share… that was really awesome."
TRUBLUE Auto Belays, including the TRUBLUE XL, are the only auto belay devices designed specifically for climbing. The TRUBLUE uses a self-regulating magnetic braking system and is engineered to meet the strictest safety standards of all auto belays.
Modular and compact, TRUBLUE auto belays are easy to install, move and maintain. TRUBLUE accommodates the widest range of climber weights, making it ideal for climbing walls used by both children and adults.
"Due to the popularity of the TRUBLUE Auto Belay, we frequently have received requests for an auto belay product from climbing wall operators with climbing walls of 42 – 65 feet in height," said Candie Fisher, CEO of Head Rush Technologies. "We are excited to bring this much-needed TRUBLUE XL Auto Belay product to our customers."
The TRUBLUE XL Auto Belay is available for sale for $2,495 at https://store.headrushtech.com, by calling 877-565-6885 (720-565-6885) or through our Head Rush Technologies Distributors.
About Head Rush Technologies
Head Rush Technologies applies innovative technologies to bring new adventure recreation equipment to the climbing, zip line and amusement industries. Head Rush Tech products make adventure activities safer. The company is best known for its application of eddy current braking technology in its products, including the award-winning TRUBLUE Auto Belay, the quickJump Free Fall Device and the zipSTOP Zip Line brake. Its products are available directly through its sales team and website, store.headrushtech.com, and through its global network of distributors. http://www.headrushtech.com.