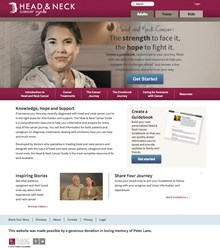 We wanted to make sure it is easy for them to get the kind of knowledge and support they need to prepare for every step of the cancer journey.
New York, NY (PRWEB) December 19, 2013
Living with cancer is a difficult journey for patients, their family, friends, and caregivers, especially when there are children or young adults involved. As a leading advocate for patient care and research benefitting patients with thyroid, head and neck cancers, the THANC Foundation recently launched an interactive website to help young children, teens and adults to better understand and manage their cancer care journey.
"When a loved one has been diagnosed with head and neck cancer, families and friends overwhelmed by the news begin to face many new challenges for which they are ill-prepared and seek information and support," said Dr. Mark L. Urken, M.D., FACS, President & Medical Director of the THANC Foundation. "We wanted to make sure it is easy for them to get the kind of knowledge and support they need to prepare for every step of the cancer journey. That's what the new Head & Neck Cancer Guide is all about."
Thoughtfully developed by doctors who specialize in treating head and neck cancers, as well as cancer patients, their loved ones, and caregivers, the new Head & Neck Cancer Guide is dedicated to providing information and support geared toward Kids, Teens, and Adults, as well as tools that make it easy to access information relevant to the type of cancer specified.
The 'Kids' section features animated characters and a variety of activities aimed at teaching them about the cancer and the words they will hear. Activities include coloring, games, an interactive glossary to teach terminology, and personal stories that give children the option to Read Myself or Read to Me. Teens and Adults can access more detailed information geared to their level of understanding, as well as videos where patients, caregivers, and loved ones share their inspiring stories while also speaking directly to fellow patients to help them to overcome the specific challenges of battling this terrible disease.
To help visitors navigate the vast amount of information available at the site, the Visual Selector Tool allows them to easily identify the specific cancer with which the patient has been diagnosed by clicking on the region where it is located. Once a selection is made, information and videos relevant to the diagnosis, treatment, and recovery from that cancer are automatically presented, including links to Related Content.
Focused on providing a personal experience, the website offers the option to Create a Guidebook and share it with loved ones. The Guidebook makes it easier for a patient, caregiver, or loved one to record and to share their cancer journey without the need to repeat information or to answer the same questions over and over again. "The Guidebook represents the personal journey of the patient, family member, friend, or caregiver," said Dr. Urken. "It gives them an easy way to stay connected with the people they invite to join their Guidebook and follow the information, experiences, and progress they choose to share."
The Head & Neck Cancer Guide website is the most comprehensive resource of its kind. It offers visitors understanding about the disease, diagnosis, treatments, dealing with emotions, how they can help, clinical trials, and advances. More importantly, it is a place for patients and their families, friends, and caregivers to experience a sense of community and support throughout each step of their challenging journey.
For more information about the Head & Neck Cancer Guide visit the website at http://www.headandneckcancerguide.org.
About THANC Foundation
The Thyroid, Head and Neck Cancer (THANC) Foundation (http://www.thancfoundation.org/) was incorporated in April 2003. In addition to research, THANC sponsors continuing professional medical education, community awareness and patient education, as well as patient outreach and support programs. Under the medical direction of Dr. Mark Urken, THANC is located at the Institute for Head and Neck and Thyroid Cancer at the Phillips Ambulatory Care Center at Beth Israel Medical Center. Recently launched in beta testing, the Thyroid Cancer Care Collaborative (TCCC - http://www.thyroidccc.org) is a groundbreaking application developed by THANC to evolve thyroid cancer care to its highest level of excellence by providing the most comprehensive and personalized treatment to patients over a lifetime.