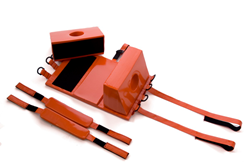 A head immobilizer to fit all spine board
Los Angeles (PRWEB) January 13, 2015
In the event of an emergency, a lifeguard, more than anyone on the waterfront, has to prepare for the worst. Whether a lifeguard is serving in a diving zone or an area with high currants, it can be incredibly vital for a lifeguard or team of lifeguards to have a head immobilizer available. A new updated head immobilizer is now available through the popular lifeguard supply company, Lifeguard Master, with unique features with the victim in mind.
The head immobilizer from Lifeguard Master is designed specifically for lifeguard backboards. Weighing only two pounds, this head immobilizer is easy to use and compatible with all spine boards and lifeguard backboards available in today's market. Measuring 10 inches long, 16 inches wide, and seven inches high, this head immobilizer is available in orange, red, blue and yellow.
Unlike other head immobilizers, the one offered by Lifeguard Master has a head immobilizer that has amazing features. This head immobilizer has side blocks with wide fast-stick closures for a snug and accurate fit. This head immobilizer also has 50 percent more support surface than competing head immobilizers and offers large circular ear holes so professionals can monitor bleeding and fluid drainage.
With two head or chin straps and a base plate that adheres easily to the board, this head immobilizer is easy to use when properly trained and provides a stable and secure connection to the board. Because there are no metal components to the head immobilizer, this product can be worn during x-rays, MRI scans, and CT scans.
Since this product is waterproof and buoyant, it can be used for water rescues making it ideal for any lifeguard to have on hand. The material this product is made from makes it easy to clean and easy to disinfect for reuse. To view a testimonial video on this, please click on: Testimonial video for head immobilizer
"The straps and head immobilizer that I purchased were exactly what I wanted. The straps are very good and very easy to tighten with the buckles. To adjust the head immobilizer, the Velcro sticks very well and I have had no issues with them," says Laura from Canada.
This universal head immobilizer can fit new or existing boards making it perfect to use as a replacement part or a brand new item. Lifeguards will not have to worry during an emergency situation about the head immobilizer fitting their board, making them able to take care of the victim and move fast. Ideally, the head immobilizer will be strapped onto the board already and be available in the event of an emergency.
An online video reviewer states, "This is our new head immobilizer we just got from Lifeguard Master. [The head immobilizer] was super easy to put on. It took me about five minutes to get it put on [the spineboard]. It just wraps around the holes. It has got the head strap and the chin strap that comes with it [and] hooked on really easy."
[This head immobilizer is extremely durable and has the abilities to withstand elements such as ocean water or chlorine making it able to last for multiple uses.
A quality and secure head immobilizer along with a quality spineboard and good straps can save someone's life and drastically affect physical injuries. This head immobilizer is universal, buoyant, allows for custom fits, and contains absolutely no metal components. Having a great head immobilizer can not only be easy for the lifeguard to use, but support a victim during a tragic event.
Lifeguard Master knows exactly what lifeguards need and continuously works on ways to improve their products as new technology emerges. It is no wonder why so many are turning to Lifeguard Master for all of their lifeguard supply and accessory needs.
Lifeguard Master has been in the emergency and life saving industry for many years. Sammy, the owner and founder of Lifeguard Master has been a lifeguard himself for 7 years. He knows the importance have having all the equipment readily available for a first responder, and through the years Lifeguard Master has become a robust lifeguard supply and lifeguard store company, accommodating the anticipating needs of first responders around the country and around the world. Lifeguard Masters determination to excellence and rescue safety has quickly made it a leader in its industry. For more information, please give us a call, send us an e-mail or visit our website. Also to stay updated with the latest news in emergency supplies, please visit our forum where rescue professionals from around the country and world stay connect, and post the latest emergency news at LifeguardsOnline.com.
Sammy
Lifeguard Master
(714) 605-3090
http://www.LifeguardMaster.com