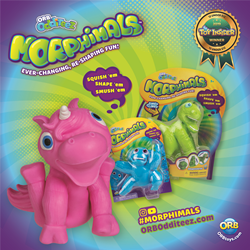 "This holiday season kids will be asking for the most colorful, squishy, slow-rising toys on store shelves. Orb's Morphimals™, ORB Slimy™ Xtreme Glitterz, and ORB Slimi Café ™ are among the best of the best toys that will have kids smushing, stretching, twisting, and shaping for hours."
HALIFAX, Nova Scotia (PRWEB) September 19, 2019
ORB™ (orbtoys.com), one of the fastest growing companies in toys and collectibles is kicking off the 2019 Holiday Season with three Top Holiday Toy Awards from The Toy Insider.
Morphimals™, the latest line of tactile collectibles from ORB™, won for holiday hot buys in their 12 Under $12 category. Morphimals™ are the ever-changing, bendable toys – hours of re-shaping fun! Morphimals™ launched at Target and 5 Below in two twistable, shapeable, fabulously fun sizes. Their unique, morphable personalities are the ultimate in imaginative play!
The two other Top Holiday Toys are ORB Slimy™ Xtreme Glitterz and ORB Slimi Café™.
"Tactile play is already a huge trend" says Jackie Breyer of The Toy Insider, "this holiday season kids will be asking for the most colorful, squishy, slow-rising toys on store shelves. Orb's Morphimals™, ORB Slimy™ Xtreme Glitterz, and ORB Slimi Café ™ are among the best of the best toys that will have kids smushing, stretching, twisting, and shaping for hours."
About ORB™
ORB™ is a toy company based in Halifax, Nova Scotia known for designing and manufacturing trending collectibles, crafts and compounds. ORB™ is best known for its brands including the award-winning Soft'n Slo Squishies™, Bubbleezz™, and ORB Slimi Cafe ™. ORB™ was founded 30 years ago by CEO Steve Kay with the Celestial ORB, a transforming hand-held wire widget, and has grown into a company with more than 25 brands sold in more than 60 countries worldwide.
About The Toy Insider
The Toy Insider is the go-to source for product information about children's toys, tech and entertainment. It publishes two annual gift guides—one for summer and one for holiday—and reviews toys 365 days a year onthetoyinsider.com, a trusted resource for parents. The Toy Insider's content is produced by an editorial team with more than 75 years of combined experience covering the toy industry. The Toy Insider is published by Adventure Publishing Group, publisher of The Pop Insider, a daily pop culture news and review site that fuels fandoms, as well as leading trade publication The Toy Book. For more information, visit thetoyinsider.com and follow them on Twitter, Instagram, YouTube, and Facebook.