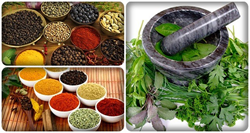 The "Natural Healing Herbs And Spices Recipes And Uses" report penned by Ngan Ta provides people with tips on how to use healing herbs and spices moderately.
Seattle, Wa (PRWEB) May 04, 2014
"Natural Healing Herbs And Spices Recipes And Uses," a new report created by Ngan Ta on the site Vkool.com shows benefits of healing herbs and spices on health, and detailed instructions on how to use them properly. At the beginning of the article, the author uncovers to people some healing herbs that are good for human health such as:

Cayenne: It is used for treating shingles pain and diabetes-related nerve pain. It also helps boost the metabolism, and speed up the calorie-burning furnace.
Cinnamon: Cinnamon helps control blood sugar levels, prevent blood clots, and conquer E. coli. This plant also has antibacterial and anti-inflammatory properties.
Cloves: Cloves contain eugenol, an anti-inflammatory chemical that helps prevent heart diseases, cancer diseases, and slow the cartilage and bone damage caused by arthritis. Cloves are also useful for treating toothache.
Coriander: This herb can help relieve the symptoms of irritable bowel syndrome. It also used for fighting bacteria, including E. coli and salmonella.
Dill: This herb may be used to soothe the digestive tract and relieve symptoms such as heartburn, colic and gas.
Oregano: Oregano contains 4 compounds that help soothe coughs, and 18 chemicals with antibacterial action that can help reduce body odor.
Holy Basil: Basil is an herbal carminative that may relieve gas and soothe stomach upsets. It also helps ease muscle spasms, and disrupt the dangerous chain of events, which can lead to the development of cancer.
Rosemary: Rosemary is a rich herbal source of antioxidants that may prevent cataracts and fight infection.
Mint: This herb can be used for treating nausea and vomiting. It also helps calm stomach muscle spasms, promote digestion, ease hiccups, and relieve flatulence.
Parsley: This herb can prevent problems including kidney stones and bladder infections.
Next, people will discover some benefits of healing spices on health including:

Fennel Seed: It is rich in volatile oils that help ease gas pains, bloating, and digestive spasms in the small or large intestines.
Garlic: Eating garlic daily can lower heart disease risk, reduce cholesterol levels, and prevent stomach and colorectal cancer.
Ginger: This spice can combat inflammation, reduce pain and swelling in people with arthritis. It also plays an important role in preventing and slowing the growth of cancer. In addition, ginger can boost digestive juices, and neutralize acids, and reduce intestinal contractions. Ginger also is an effective and short-term treatment for morning sickness.
Mustard: This spice helps stimulate appetite by increasing the flow of saliva and digestive juices.
Nutmeg: Nutmeg is high in eugenol, a compound that can benefit the heart
Huy Pham from the site Vkool.com says, "Natural Healing Herbs And Spices Recipes And Uses is a good report that helps readers understand more about healing herbs and spices and their benefits on human health."
If people want to get more detailed information from the "Natural Healing Herbs And Spices Recipes And Uses" article, they should visit the website: http://vkool.com/healing-herbs-and-spices/.
____________
About Ngan Ta: Ngan Ta is an editor of the website Vkool.com. In this website, Ngan Ta provides people with a collection of articles on health benefits of herbs and spices.