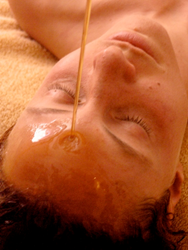 San Francisco, California (PRWEB) April 28, 2014
The Healing Your Life™ (HYL) Counselor Course is a comprehensive program designed to professionally train Ayurvedic Educators and Practitioners to actively bring Ayurveda into their communities with HYL workshops. Each workshop is an eight module series, prepared in a visual PowerPoint format with applicable exercises. All participants receive a HYL Workbook/Journal drafted to work with each module for convenient reference and documentation. Each sequential module is aimed to gradually link the healing principles of Ayurveda with daily life choices. The HYL workshop is successful in many regards; cultivates healing, inspires to transform lifestyle, enhances inner development, and educates the community.
This program is unique for bringing Ayurveda to the mainstream. A pilot program has been successfully conducted and reviews from community participants have been exceptional. The workshops guide participants to understanding their own body constitution, imbalances, and help in deciphering a harmonious lifestyle for them to heal, using Ayurveda. The HYL Counselor is professionally trained to take their workshop participants through the program in an applied format, aide with issues that may arise with each daily routine taught, lead the community towards healing lifestyles and educate towards a deeper understanding of Ayurvedic lifestyle principles.
The Healing Your Life™ program is unique because the HYL Counselor not only imparts knowledge, demonstrates daily routines, but provides in-class support as the community progresses through each healing lifestyle module.
Established in 1995, the California College of Ayurveda is the longest running, State-approved college offering professional training programs for the study of Ayurvedic Medicine in the West. CCA offers a comprehensive curriculum, with three levels of programs leading to certification as a Clinical Ayurvedic Specialist (C.A.S.). The Ayurveda school offers a variety of shorter length workshops and seminars, and trains students to become the healers of the future, Ayurvedic practitioners dedicated to understanding the whole person – physically, emotionally, spiritually. For more information, please visit http://www.AyurvedaCollege.com or call +1 530 4789100.