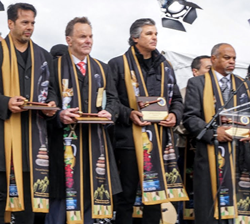 Across the nation we are hearing angry voices demanding change, which is why it is critically important to recognize Christian leaders who are making a difference." Bishop Harry R. Jackson
Beltsville, MD (PRWEB) May 10, 2016
Despite the racial division in America, on April 9th, individuals who are racial bridge builders were honored at the Lincoln Memorial during United Cry DC16. The racial reconciliation ceremonies occurred on the anniversary of the ending of the civil war and at the same location where Dr. Martin Luther King Jr. delivered the "I Have a Dream" speech. A diverse multi-racial, multi-denominational group of pastors and church members gathered to pray for America's healing and recognize Christian leaders whose lives and ministries are examples of racial diversity, reconciliation, healing, justice and community transformation.
The racial reconciliation segment was co-sponsored by the King Family Legacy Foundation and Bishop Harry Jackson Jr., of The Reconciled Church Initiative, and was conducted to honor racial bridge builders and inspire the next generation to continue the vision Dr. King outlined in his famous "I Have a Dream" speech.
"Across the nation we are hearing angry voices demanding change, which is why it is critically important to recognize Christian leaders who are making a difference," says Bishop Harry Jackson Jr., Senior Pastor of Hope Christian Church in Beltsville, Maryland. "These ministries and churches are helping heal the racial divide in America with bridges of brotherhood, societal reform and economic empowerment."
Releasing Dr. King's Full Dream
At the beginning of the reconciliation ceremonies, Jackson reminded the gathering that Dr. King's dream has not been fully embraced. "The success of Dr. King's dream depended on the linking of three areas - community mobilization and political influence with spiritual awakening. Unfortunately, many have focused on the political action and community mobilization and failed to integrate biblical values and spiritual principles into their work."
Foot washing of the Kings
As an expression of repentance for "forsaking the dream" and recognition of the sacrifices carried by King's Family and other racial leaders, a prayer of repentance/forgiveness and foot washing were conducted. Foot washing is symbolic of love, humility and commitment to servant leadership.
The moving ceremony included members of King Family, daughter Rev. Bernice King and niece Dr. Alveda King; Bill Haley the grandson of Alex Haley (historical author of Roots); and Lynne M. Jackson, the great granddaughter of Dred Scott. Four white pastors washed their feet while others prayed.
Spotlighting Peacemakers
The racial reconciliation segment of United Cry DC16 concluded with conferring the first national "Defenders of the Dream" award to nine honorees. A group of Christian leaders were also commissioned to help expand the work of racial healing and impart it to the next generation. "In this Jubilee year, we are seeing a new emergence of servant leaders and racial reconcilers. From across the denominations, God's champions are uniting and raising a new standard in our communities," states Dr. Alveda King.
The honorees and commissioned included: Bishop Charles Blake, A. R. Bernard, Dr. Negiel Bigpond, Jonathan Cahn, Dr. Paul Louis Cole, Kenneth Copeland, Dr. Creflo Dollar, Dr. Ronnie Floyd, Pastor Will Ford, Dr. Jentezen Franklin, Dr. Jim Garlow, Lynne M. Jackson, Pastor John Jenkins, Sr., Bishop Marcus Johnson, Anne Graham Lotz, Miles Gregory McPherson, Dr. Sharon Nesbitt, Bishop Angel L. Nunez, Dr. Sammy Rodriquez, Dr. Donna Saunders, Rev. Bobby Schuller, Rev. Lon Solomon, Dr. Doug Stringer, Dr. Darryl Winston, Rev. George Wood, Pastor Jerry Young, and others.
Recipients of the "Defender of the Dream" were exhorted to stay true to Dr. King's dream of spiritual and political renewal for communities, continue to expand the work of racial healing through multi-cultural collaboration and pass the mantle to the next generation. The racial bridge builders all received a specially designed Prayer Stole or mantle and a memorial Dreamstone." The dreamstones were cut from original cobblestones and granite pathways surrounding the Lincoln Memorial when Dr. Martin Luther King Jr. spoke in 1963.
"These leaders have made a difference by being racial peacemakers, pioneers and healers within their constituencies. The church and nation must follow their collective lead and become proactive in healing the racial divide in America," Bishop Jackson stated. "This is not the end but only the beginning of building bridges of peace."
View the full United Cry DC16 racial reconciliation ceremony.
# # #
For more information visit: The Reconciled Church
For media interviews contact Lynn Scarborough, 469 951-7051 Lynn4Media(at)gmail(dot)com
The Reconciled Church Initiative was created to heal racial division in America by encouraging unified Church leadership to take strategic steps that address the root problems of America's ghettos and suburban communities. This collaborative approach utilizes the seven bridges of reconciliation to restore purpose, justice and opportunity to urban areas. The hope of this multi-denominational engagement is to stimulate community transformation and spiritual renewal.
United Cry is a nationwide movement of pastors, Christian leaders, churches and believers joining to pray for future and healing of America through spiritual awakening and engagement of pastors.