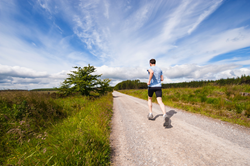 Collingwood, Ontario (PRWEB) September 08, 2017
For athletic and sports enthusiasts looking to stay healthy by managing their common sports injuries, Collaborative Health Group offers an array of services to include chiropractic, massage, and acupuncture therapy to help people heal their body and function to the best of its ability. Based out of Collingwood, Ontario, Collaborative Health Group specializes in helping people to recover faster from sports related injuries from mountain biking, golfing, road biking, downhill mountain biking, windsurfing, kiteboarding, and much more.
When an injury occurs, whether it's a torn ligament or a broken bone, the muscles and tendons around that injury are important for a full recovery. Proper therapy can help people recover faster and get stronger in less time. Research has shown that acupuncture can reduce healing time by as much as 50% and can promote the resolution of injuries related to sports activities. Acupuncture provides people relief from pain by stimulating a person's endorphins, aids in the dispersal of swelling and bruising, and promotes a faster recovery after training sessions.
Furthermore, sports such as golfing and biking can lead to lower back pain when improper form is used. A spokesperson for Collaborative Health Group states, "It is estimated that 80% of the population experiences significant lower back pain at some point in their lives. As adults, we work hard and play hard, so it's only natural that we would need to see a chiropractor when our bodies are consistently exhausted and in pain."
While hockey hits get a lot of attention in Canada, skiing and snowboarding injuries are more than twice as common according to recent data by the Canadian Institute for Health Information (CIHI). With so much to enjoy about Canadian summer and winter outdoor activities, safety and precautions are important for all age groups. Furthermore, CIHI reports than every year, more than 5,000 Canadians get seriously injured, requiring at least one night's hospital stay, due to sports or recreational activities.
The spokesperson from Collaborative Health Group notes, "We believe that massage therapy can be a powerful ally if someone is recovering from an injury, suffering from a chronic condition, or just trying to live a healthier life in Collingwood Ontario." The massage therapy provided at Collaborative Health Group is designed to help athletes improve their range of motion, ease their dependence on medication, stretch their muscles, promote tissue regeneration, and much more.
The variety of services at Collaborative Health Group, such as their chiropractic therapy, can help people to maximize their overall health and well-being, and prevent injuries of the neck, back, shoulder, knee, and ankle from athletes suffering from sports injuries due to forceful impacts, repetitive motion, over-training, and failure to warm up properly. Regular chiropractic visits are widely known to promote quicker recovery after a game and training, and are known to improve an athlete's balance and overall performance. The spokesperson notes, "The benefits with receiving regular chiropractic care are numerous."
Additionally, Collaborative Health Group is widely recognized as a leader when it comes to helping people heal from sports related injuries. Following a series of treatments, many people find that their pain conditions subside, and feel better with the solutions for natural pain relief from Collaborate Health Group. The spokesperson from Collaborate Health Group adds, "We truly care about our patients. Seeing a chiropractor at our Collingwood office may help improve nerve communication within the body, provides relief of pain, improves joint function and overall coordination, and improves posture and overall physical function. Regularly seeing a chiropractor at our office in Collingwood can help people find relief from chronic pain from sports related exertion or injuries. Our team at Collaborative Health Group has the experience and knowledge to help athletes feel better."
Collaborative Health Group in Collingwood provides chiropractic wellness at affordable prices. For first time patients, a consultation takes place to develop a customized treatment plan designed to mitigate a person's pain. The company offers a free 15-minute consultation to see if their services would be right for those needing to keep active and enjoying life. For more information, please visit http://collaborativehealthcollingwood.com
About Collaborative Heath Group:
Established in 2014, Collaborative Health Group in Collingwood works to help people reach their full physical potential with focused and compassionate chiropractic care. The company serves the Collingwood, Ontario area and provides a number of different services including chiropractic treatment, acupuncture, and massage therapy. Their mission is use evidence based treatments to improve function and allow people to live their life to the fullest. http://collaborativehealthcollingwood.com/our-team/
Collaborative Health Group
34 Ste. Marie Street
Collingwood, ON
L9Y 3K1
(705) 446-2203
https://www.facebook.com/Collaborative-Health-Group-832700580181253
https://twitter.com/CHGCollingwood