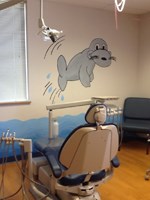 We work within our community to reach our vision of "embracing people, inspiring health".
Jefferson City, MO (PRWEB) August 07, 2013
The Community Health Center of Central Missouri is increasing the number of days dental services will be available for patients. The Fulton health clinic will see dental services move to three days per week (Monday – Wednesday) beginning on August 1, and the location will add urgent care hours beginning September 1. The Jefferson City clinic will be adding urgent care capabilities as of August 1.
CHC of Central Missouri offers the following preventative dental services:
Cleanings
Hygiene and Tissue Management
Sealants
Check-ups and X-rays
Fillings
Extractions
Oral Cancer Screening
Healthy Gum Care
Restorative Services:
Root Canals
Crowns and Bridges
Full and Partial Dentures
Appointments are necessary for non-emergent patients but true emergency patients are seen as quickly as possible. A dental emergency may include: acute pain and/or swelling for an extended period of time; trauma associated with broken teeth; acute ulcerative necrotic gingivitis; traumatic occlusion.
Additionally, the CHC of Central Missouri is offering free screenings and back to school physicals in celebration of National Health Center Week (August 12-16). Parents can bring their child to any location to receive a complementary physical prior to the new school year.
For more information please visit http://www.chccmo.org.
About the Company:
Established in 1995 the Community Health Center of Central Missouri strives to provide the primary healthcare needs of the residents of central Missouri. Since the establishment in 1995 CHCCMO has grown to include four locations, Jefferson City, Fulton, California, and Linn. Community Health Center of Central Missouri offers preventative, functional, restorative, and emergency dental care for patients of all ages. We believe in dental care for the whole family and every family.