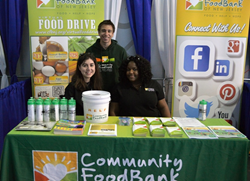 Enjoy a good workout, and a second opinion on your holiday purchases.
CHATHAM, NJ. (PRWEB) November 15, 2016
The Chatham Club, a health club and fitness center in Chatham, New Jersey, will be hosting The Chatham Club Holiday Boutique & Fundraiser on November 17 from 8:30 a.m. to 1 p.m. at the gym. Proceeds from the event will benefit the Community FoodBank of New Jersey (CFBNJ). The Holiday Boutique & Fundraiser will be held in lieu of the annual Fit-to-Food 5K Run to benefit the CFBNJ.
The event will include a food drive and feature goods from local vendors. Members are encouraged to bring non-perishable items for donation. The CFBNJ will be in attendance providing information on how you can help provide for local families in need. Members and guests can enjoy early holiday shopping while giving back. Featured vendors include Artisanal Soaps from Israel, Batter Junkies, Capital Test Prep, Center for Relaxation & Healing, Chatham Cougar Spirit Wear, Heaven Scents Oils, Impulse Jewelry & Accessories, India Hicks London-Harbour Island, Jana's Jewelry, Madison Dodger Spirit Wear, Professional Physical Therapy, and YogaSmoga.
"Bring a friend—on us!" said Christine Rutgers, General Manager at The Chatham Club. "Enjoy a good workout, and a second opinion on your holiday purchases."
New Jersey has 1.1 million people who face hunger every day, and nearly 340,000 of them are small children. The Community FoodBank of New Jersey assists those in need and seeks to find long-term solutions.
The Chatham Club values giving back to the community through participation in several fundraising efforts throughout the year, including No Shave Movember and Pedal for a Cure. The health club also donates funds to various school programs in the community, including sports programs and other efforts.
To learn more about the Holiday Boutique & Fundraiser event or The Chatham Club, send inquiries to 484 Southern Blvd, Chatham, N.J. 07928, call (973) 377-1900, or visit http://www.chathamclub.com.
The Chatham Club is a premiere fitness and squash facility in New Jersey. The gym features the latest cardio and strength-building equipment, experienced personal trainers, more than 80 group exercise classes each week, an outdoor fitness training area, sports performance training for young adults, five international squash courts, and two age-specific nurseries. They take pride in providing an attractive and clean facility where members can find all the amenities to make their workout program productive.