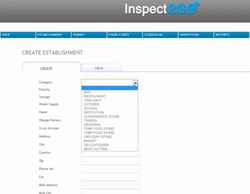 Permitting, Violation History, Health Code Referencing and Scheduling in One Software Package
(PRWEB) October 10, 2013
Inspect2GO (http://www.inspect2go.com/ehs/) today unveiled the web-based portion of its digital health inspection software. This flexible solution can be customized for the unique needs of municipal health departments. Health inspectors use the mobile application on iPad or Android tablets to inspect restaurants and other establishments. Health code, violation history and establishment information is stored on the tablet. Inspectors then sync with a digital, web-based inspection management system that is hosted on the cloud or on customers' SQL servers.
Inspect2GO's EH2GO software for regulatory agencies includes:

User Setup
Establishment/Restaurant Health Inspection Management
Permit/License Management
Government Regulatory Code Reference (FDA 2009 Food Code or local municipal codes)
Code Violation History per Establishment
Inspection Scheduling
Wireless, Mobile Field Inspection (iPad and Android Apps)
Custom Reporting
Inspections and re-inspections are planned with the Inspection Scheduler. Hardcopy paper permits are printed onsite on a pocket-sized wireless printer. View inspection history and code violations while performing an inspection in the field. Perform field inspections wirelessly, without connectivity via a resident, native mobile application on an iPad or Android tablet. Sync with the database and web-based software when a connection is available.
About Inspect2GO
Inspect2GO (http://www.inspect2go.com/eh2go/) offers environmental health inspection software to municipalities nationwide. EH2GO is the firm's comprehensive software solution with 3 components; mobile app, SQL database and web-based software. Restaurant inspection and other environmental health (EH) audits are performed via the mobile application. The "native" mobile app functions on an iPad, Android tablet or other mobile device without the need for a wireless connection. The mobile app then syncs with Inspect2GO's web-based, environmental health inspection software. Personnel and facilities are managed via the web-based solution. Users can schedule inspections, view facility history, reference health codes, print permits, generate custom reports and post violations publicly, all within one comprehensive software package. Inspect2GO tailors its software to meet the unique regulatory needs of its municipal customers.